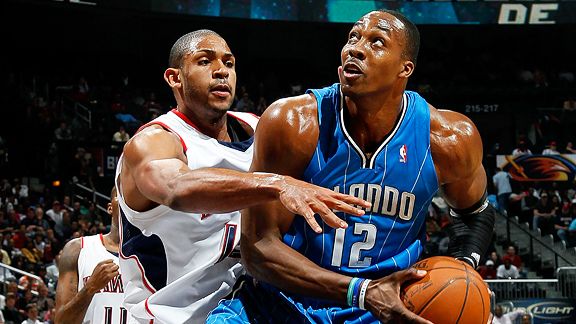 Kevin C. Cox/Getty Images
Atlanta Hawks vs Orlando Magic -- Game 1
8:00 PM ET, May 4, 2010 -- Amway Arena, Orlando, FL -- TNT
Orlando hosts Atlanta tonight, and won the regular-season series against the Hawks 3-1. Atlanta is 2-17 in its last 19 road-playoff games. There have been 11 previous NBA playoff series matching a team coming off a 4-0 sweep against a club that had just been taken to seven games. The 4-0 team lost three of those series: the Lakers in 1968 (lost in the Finals to the Celtics), the Jazz in 1998 (lost in the Finals to the Bulls) and the Cavaliers in 2009 (lost in the Conference Finals to the Magic). The Magic haven't played in seven days, which means they'll either have fresh legs, rust to shake off, or both.
Game Preview: Hawks vs Magic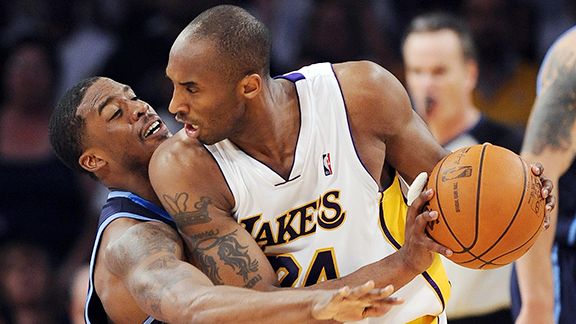 AP Photo/Mark J. Terrill
Utah Jazz vs Los Angeles Lakers -- Game 2 -- (Lakers lead 1-0)
10:30 PM ET, May 4, 2010 -- STAPLES Center, Los Angeles, CA -- TNT
Phil Jackson has never lost a playoff series when his team wins Game 1 (45-0). The Lakers are 42-1 in a seven-game NBA playoff series when they take a 2-0 lead. The lone loss was in the 1969 NBA Finals, when they lost in seven games to the Celtics. The Jazz will again be without forward Andrei Kirilenko, who hasn't played since suffering a calf injury March 12. Utah coach Jerry Sloan said he hopes his team shows a toughness comparable to the Lakers tonight, knowing Kobe Bryant isn't likely to let a home-playoff game slip easily through his fingers.
Game Preview: Jazz vs Lakers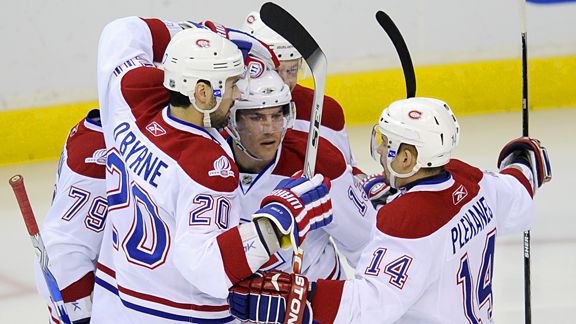 AP Photo/Nick Wass
Pittsburgh Penguins vs Montreal Canadiens -- Game 3 -- (Series tied 1-1) -- Versus
Michael Cammalleri's eight goals is tied for the fifth most by a Canadiens player in a single postseason over the last 20 years and he's done it in just nine games. Jaroslav Halak, who was pulled in Game 1 and responded with a win in Game 2, is 5-0 this postseason when he faces at least 38 shots on goal. The Canadiens and Penguins are in their second-straight series this postseason where the series was tied 1-1 after 2 games. Over the last two playoff seasons (2009 and the first round in 2010), only four of the 12 teams that won Game 3 of a series that had been tied 1-1 went on to win that series.
Game Preview: Penguins vs Canadiens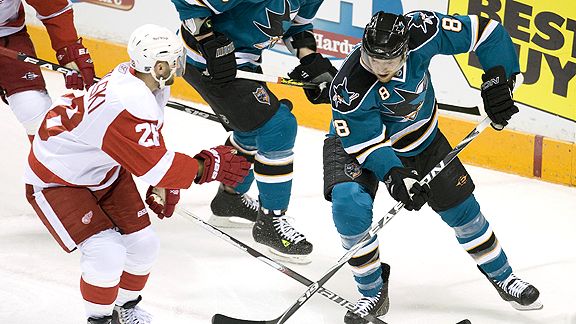 Jason O. Watson/US Presswire
San Jose Sharks vs Detroit Red Wings -- Game 3 -- (Sharks lead 2-0) -- Versus
7:30 PM ET, May 4, 2010 -- Joe Louis Arena, Detroit, Michigan
Joe Pavelski has scored two goals in each of the first two games of this second-round series. Pavelski is the first NHL player to record three consecutive multiple-goal games in one playoff year since Mario Lemieux did it in 1992. Pavelski has nine goals to lead the NHL this postseason, tying Patrick Marleau in 2006 for the most in a single Sharks postseason. The last time the Red Wings were down 2-0 was in the 2003 Conference Quarterfinals to the Mighty Ducks, a series they would eventually be swept in four straight.
Game Preview: Sharks vs Red Wings
Note: The Elias Sports Bureau and ESPN Stats and Information group contributed to this report.