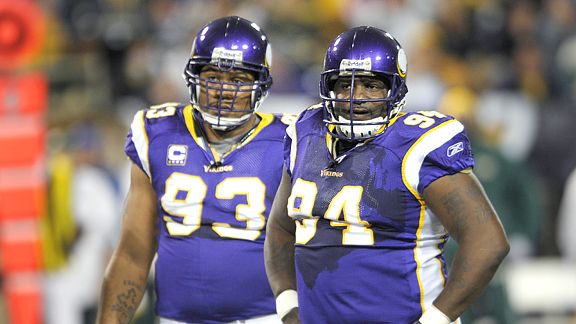 AP Photo/Tom Olmscheid
Upon Further Review
The Minnesota Vikings may have suffered their first loss of the season. A Minnesota judge has sided with the NFL in a lawsuit by Vikings DTs Kevin Williams and Pat Williams challenging their four-game suspensions for violating the NFL's anti-doping policy. Both players tested positive for a banned diuretic found in the StarCaps weight-loss supplement they were taking. The Williamses argued that the NFL broke state labor law when applying its drug policy, but Judge Larson disagrees. The decision doesn't clear the way for the NFL to suspend the players; the judge will hold a hearing Thursday afternoon on whether to grant a temporary injunction pending an appeal.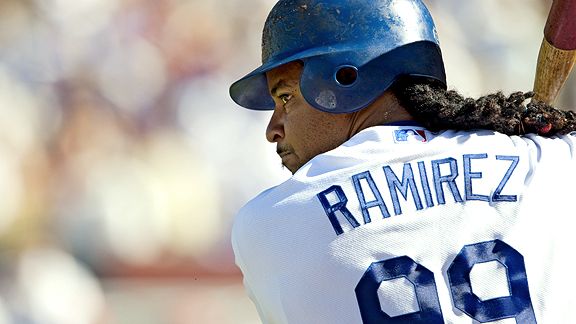 Jeff Lewis/Icon SMI
Manny Happy Returns
Manny Ramirez is expected back in the Dodgers dugout Saturday against the Rockies, according to the LA Times. Ramirez was placed on the 15-day DL April 23 with a strained right calf. The 37-year-old left-fielder will play another game for the Inland Empire 66ers, the Dodgers' Class-A affiliate as a final tune-up Thursday.

Remembering Robin Roberts
Hall of Fame pitcher Robin Roberts has died. The greatest right-hander in Phillies history died this morning in his Florida home of natural causes. He was 83 years old. Roberts pitched 19 years in the big leagues, spending the first 14 with the Phillies. He won 286 games and remained a diehard Phillies fan, never missing a game on TV including last night's contest against the Cardinals.
The Associated Press contributed to this report.