May 12, 2010 8:00 AM ET
Celtics 120, Cavaliers 88 (Celtics lead series 3-2)
The
Celtics
beat the
Cavaliers
120-88 to take a 3-2 lead in the
Eastern Conference Semifinals
. The 32-point win ties a Celtics franchise record for largest postseason road win. The 32-point loss is the largest home playoff loss in Cavaliers franchise history, surpassing the previous record by 9 points. The Cavaliers, who were 61-21 (.744) during the regular season, became the first NBA team with a regular-season
winning percentage of .700 or better
to lose a home playoff game by at least 30 points.
Game Recap
|
Box Score
|
Daily Dime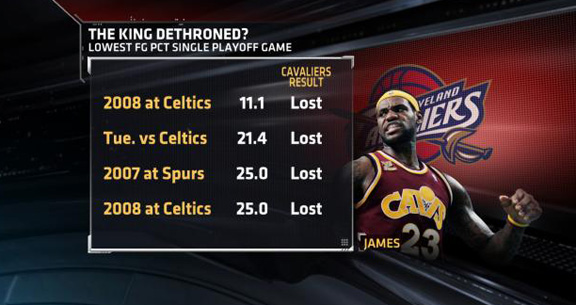 The Celtics hold LeBron to 3-of-14 shooting, the 2nd-worst field goal percentage of his playoff career. Boston has held him to 3 of 4 of his worst playoff shooting games all-time. It's no surprise that the Cavaliers have lost all 4 of the games where he shot 25 percent or worse from the field.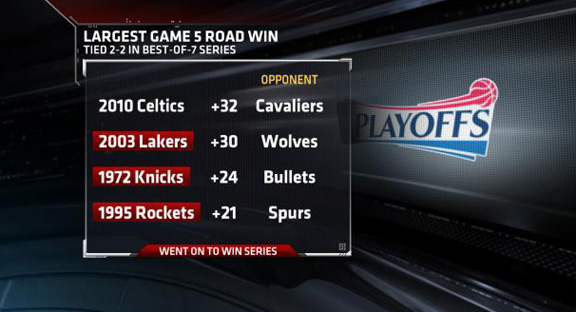 In best-of-7 series history, that team that has won Game 5 has gone on to win the series 83 percent of the time. Boston made sure to put the odds in the its favor, as the 32 point win is the largest Game 5 road win with a series tied 2-2 in NBA history.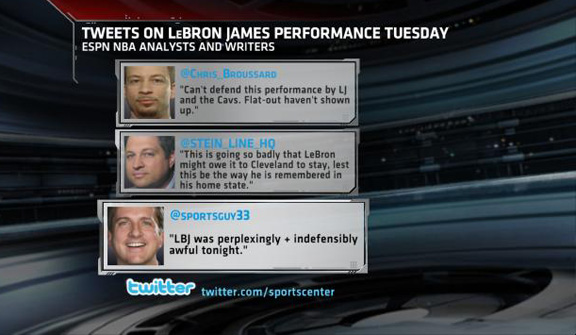 ESPN NBA Analysts and Writers Chris Broussard, Marc Stein and Bill Simmons weighed in on LeBron's performance via Twitter. Apparently, you don't need all 140 characters to describe LeBron's game 5 performance.
NOTE: The Elias Sports Bureau and ESPN Stats and Information Group contributed to this report
Tags: Video, SC Highlight Of The Night, Lebron James, Cleveland Cavaliers, NBA Playoffs, Boston Cetlics