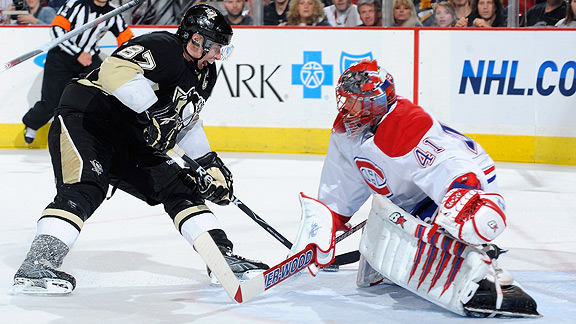 Joe Sargent/NHLI/Getty Images
Montreal Canadiens vs. Pittsburgh Penguins
7:00 PM ET -- Mellon Arena, Pittsburgh, Pennsylvania
The Canadiens have a chance to eliminate Sidney Crosby and Alex Ovechkin in consecutive rounds. With a win in Game 7, Montreal would be the 1st Eastern Conference 8-seed to reach the Conference Finals. Pittsburgh, however, has thrived in Game 7 situations winning their last four appearances. Montreal and Pittsburgh have alternated wins in the first six games of their series heading into Game 7 tonight. There have been only five best-of-seven NHL playoff series in which neither team won two consecutive games: Quebec-Montreal in 1985, Calgary-Edmonton in 1986, Boston-New Jersey in 1988, Boston-Montreal in 1991 and Tampa Bay-Philadelphia in 2004. If the Canadiens win, they will become the 5th team to win two Game 7s on the road in a single postseason and the 4th to do it in consecutive rounds.
Won 2 Road Game 7s in Same Postseason
2009 Penguins--------------Won Stanley Cup
2009 Hurricanes------------Lost Conf Finals
2003 Wild------------------Lost Conf Finals
1971 Canadiens------------Won Stanley Cup
Game Preview: MTL vs. PIT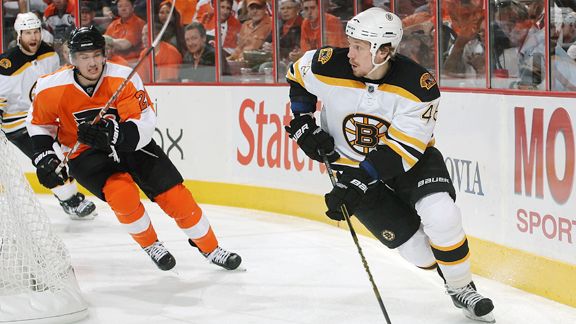 Len Redkoles/Getty Images
Boston Bruins vs. Philadelphia Flyers
8:00 PM ET -- Wachovia Center, Philadelphia, Pennsylvania
For the first time in team history, the Flyers have forced a Game 6 after trailing 3-0 in a series - in part thanks to their scoring. The Flyers have scored nine goals in their last two games after being held to seven goals in the first three games of the series. Philadelphia is trying to do something that hasn't been done a lot. There have been only five instances of an NHL team winning Games Four, Five and Six of a playoff series after losing the first three games. The teams that reached a seventh game after trailing 3-0 were the 1939 Rangers (vs. Boston), 1942 Maple Leafs (vs. Detroit), 1945 Red Wings (vs. Toronto) and 1975 Islanders, who did it twice (vs. Pittsburgh and Philadelphia). Only Toronto in 1942 and the Islanders in 1975 (vs. the Penguins) were able to complete the comeback with a Game Seven win.
Bruins When Leading Series 3-0, Postseason History
Won in 4-----12
Won in 5------2
Won in 6------1
Won in 7------1
>>Does not include 2010 Conf Semis vs Flyers (lead 3-2)
Game Preview: BOS vs. PHI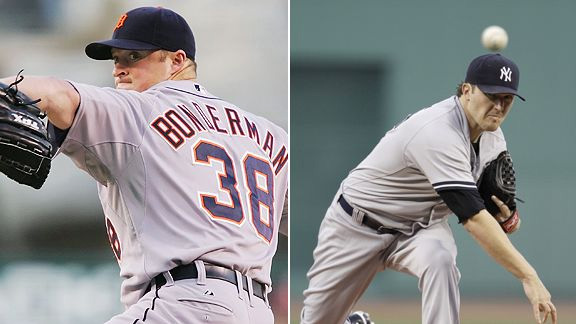 Lisa Blumenfeld/Getty Images and AP Photos
New York Yankees vs. Detroit Tigers
7:05 PM ET -- Comerica Park, Detroit, Michigan
Starting Pitchers
New York: Phil Hughes (4-0, 1.69 ERA)
Detroit: Jeremy Bonderman (1-1, 5.74 ERA)
Phil Hughes' 1.69 ERA is the lowest by a Yankee starter under the age of 24 in his first 5 starts of the season since Dave Righetti posted a 1.50 ERA in his first 5 starts in 1981 at the age of 22. The 23-year-old is the first Yankees starting pitcher under the age of 24 to start a season 4-0 since Whitey Ford started the 1950 season with nine straight wins at age 22. Tigers starter Jeremy Bonderman hasn't received a decision in his last three starts, with the Tigers winning each time. His last outing was washed away after he allowed five runs on six straight hits with one out in the third inning of Friday's match up at Cleveland, which was rained out after four innings were completed. The right-hander is 3-7 with a 5.55 ERA in 12 games (11 starts) against the Yankees.
Game Preview: NYY vs DET
Note: The Elias Sports Bureau and ESPN Stats and Information group contributed to this report.