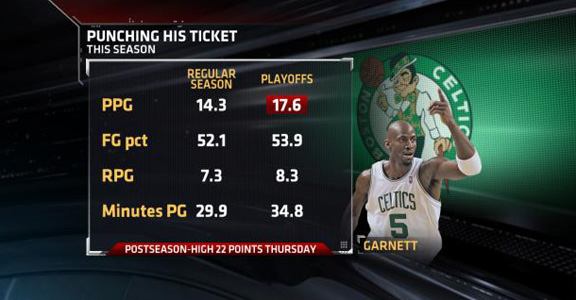 BRING ON THE MAGIC: The Celtics were called into question when they rested Kevin Garnett so much during the regular season, but it is paying dividends in a MONSTER way this postseason. Take a look at the comparison, and you can see that it is largely because of Garnett that the Celtics find themselves in the Conference Finals.
Game Recap | Box Score | SC Highlight OF The Night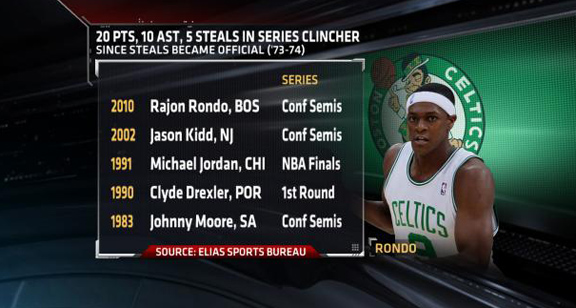 THE BIG THREE FOUR: Rajon Rondo leads the Celtics to victory with another strong performance. Rondo became just the 5th player in NBA history to go for at least 20 points, 10 assists and 5 steals in a series clinching win. The last player to do it was Jason Kidd in 2002. Boston is 3-0 all-time when Rondo and Garnett both go for 20 in the playoffs.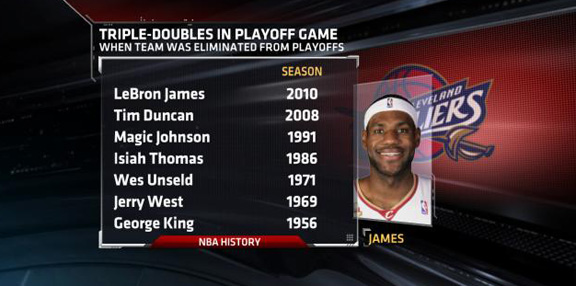 LAST DANCE IN CLEVELAND?: This is the 7th time in NBA history that a player put up a triple-double in a game his team was eliminated from the playoffs. The last player to do it was Tim Duncan in 2008, but then you have to go back to 1991 for the previous time.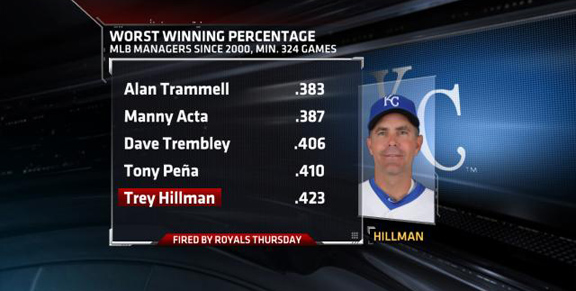 ROYALS MOVE IN NEW DIRECTION: Trey Hillman had brought hopes to KC after winning 75 games in 2008, when the Royals hadn't won more than 69 in each of the previous 4 seasons. But since then the Royals won just 39 percent of their games, including a 12-23 record this season.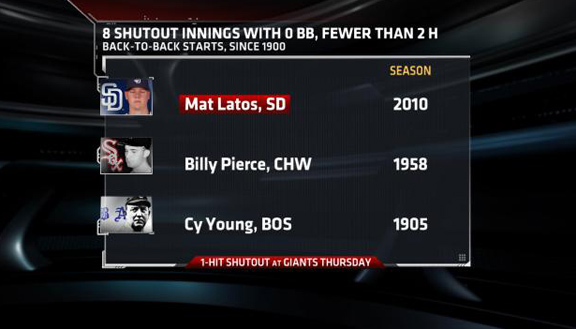 SO CLOSE TO PERFECTION: The Padres' Mat Latos pitched a 1-0 complete-game one-hitter in San Francisco on Thursday, after pitching eight innings and giving up only two hits in a 7-0 win at Houston in his last start. He becomes only the third man in baseball's "modern era" (since 1900) to pitch at least eight shutout innings without walking a batter while allowing no more than two hits in back-to-back starts. The other pitchers to do that were Cy Young in 1905 and Billy Pierce in 1958.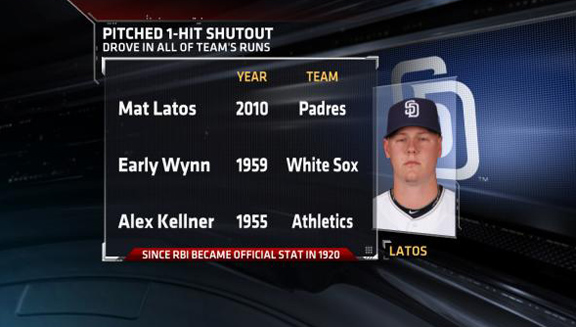 ONE MAN SHOW: Another interesting note about Mat Latos, he became the 3rd player in history to throw a 1-hit shutout AND drive in all of his team's runs. The last player to do it was hall-of-famer Early Wynn in 1959. Latos is the first NL player in history to accomplish the feat.
Note: The Elias Sports Bureau and ESPN Stats and Information Group contributed to this post.