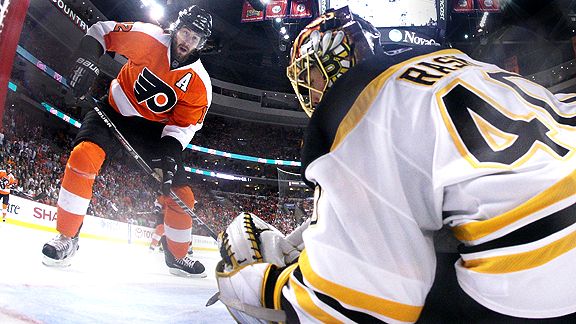 Bruce Bennett/Getty Images
Philadelphia Flyers vs Boston Bruins
7:00 PM ET, May 14, 2010 -- TD Garden, Boston, Massachusetts -- Versus
The Bruins and Flyers will square off in a decisive Game 7 to determine who advances to the Eastern Conference Finals. Only three teams in the NHL, NBA and Major League Baseball have won a seven-game series after losing the first three -- the 1942 Toronto Maple Leafs, the 1975 New York Islanders and the 2004 Boston Red Sox. The Flyers are the first NHL team since the 1975 Islanders to even force a Game 7 after trailing 3-0. For two teams who struggled to make the playoffs, then upset their first-round opponents, the reward for a win will be home-ice advantage against the eighth-seeded Montreal Canadiens. The Bruins were seeded sixth and the Flyers seventh.
Game Preview: Flyers vs Bruins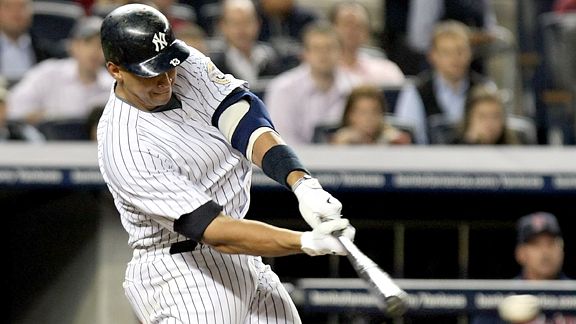 Nick Laham/Getty Images
Minnesota Twins (22-12) vs New York Yankees (22-12)
7:05 PM ET, May 14, 2010 -- Yankee Stadium, New York, NY
Minnesota: Baker (4-2, 4.57 ERA)
New York: Burnett (4-1, 3.40 ERA)
The AL-Central leading Twins travel to the Bronx for the first time since getting swept by the Yankees in last season's AL division series. The Twins are off to their best start since 2001, and will use this weekend's three-game series against the World Champions as a barometer for success so far this season. Including the playoffs, Joe Mauer hit .366 with three homers and six RBIs against the Yankees in 2009. Alex Rodriguez is one home run shy of passing Frank Robinson for seventh all-time with 587.
Game Preview: Twins vs Yankees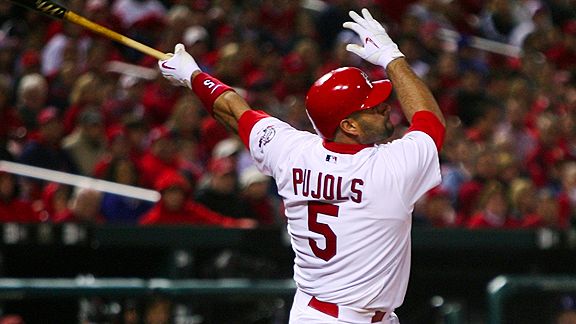 Dilip Vishwanat/Getty Images
St. Louis Cardinals (20-15) vs Cincinnati Reds (19-15)
7:10 PM ET, May 14, 2010 -- Great American Ball Park, Cincinnati, Ohio
St. Louis: Garcia (3-2, 1.18 ERA)
Cincinnati: Harang (2-4, 6.02 ERA)
Two NL Central clubs heading in different directions collide tonight in Ohio. The St. Louis Cardinals were swept at home by the Astros, while the red-hot Cincinnati Reds have won their last five. A win tonight puts Cincinnati in first place by a half game. The Cardinals had a five-game lead in the division May 3, but have lost seven of 10. Meanwhile, the Reds haven't allowed a run in their last 19 innings of play. Albert Pujols and company hope to end both streaks tonight.
Game Preview: Cardinals vs Reds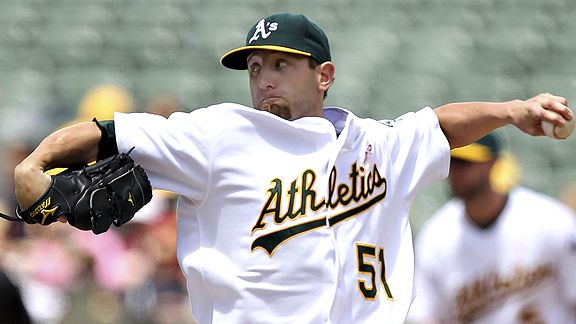 Jed Jacobsohn/Getty Images
Oakland Athletics (18-17) vs Los Angeles Angels (15-21)
10:05 PM ET, May 14, 2010 -- Angel Stadium of Anaheim, Anaheim, California
Oakland: Braden (4-2, 3.33 ERA)
Los Angeles: Saunders (1-5, 6.19 ERA)
Dallas Braden takes the hill tonight for the first time since his perfect game on Mother's Day. Braden has not walked a batter in his last two starts (16 IP). He has already beaten the Angels this season in Anaheim (Apr. 11). The last five pitchers to throw a perfect game are 2-2 with a 4.85 ERA in their next start. Oakland is two games behind the first place Rangers. The Angels look to bounce back after losing the final two of a three-game home set with Tampa Bay this week. Los Angeles is a disappointing 9-11 at home in 2010.
Game Preview: A's vs Angels
Note: The Elias Sports Bureau and ESPN Stats and Information group contributed to this report.