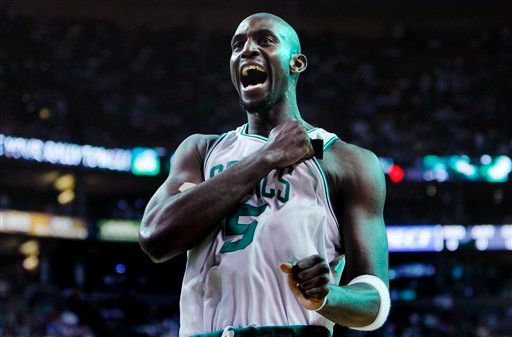 AP Photo/Charles Krupa
The Boston Celtics look like a team on a mission. After destroying the Magic in Game 3, they are primed for their second Finals appearance in three years. Glen "Big Baby" Davis led the Celtics with 17 points off the bench but it was solid team defense that gave the Celtics the win. As a team the Celtics had 12 steals and forced 17 turnovers. Boston leads the series 3-0.
Cuban Fined $100,000 For LeBron Comments
Dallas Mavericks owner Mark Cuban has been fined by the NBA again. This time the amount is $100,000 after commenting on LeBron James' pending free agency. League rules prohibit team management from commenting on a player currently under contract. James won't become a free agent officially until July 1st.
Leighton's 3rd Shutout Leads to 3-1 Series Lead for Philly
Flyers goalie Michael Leighton is putting on a show against Montreal in the NHL's Eastern Conference Finals. Leighton recorded his 3rd shutout of the series as the Flyers won Game 3, 3-0. Claude Giroux scored twice for Philly, putting them just one win away from a Stanley Cup Finals appearance.
Nowitzki Expected to Opt Out This Summer
The Dallas Mavericks are operating under the impression that former NBA MVP Dirk Nowitzki will opt out of his contract this summer. ESPN.com's Marc Stein reports that though they expect him to join the free-agent class, the Mavs remain hopeful that Nowitzki will choose to return to the only team he's ever played for next season.
The Lakers continue to prepare for Sunday's Game 3 in Phoenix, cautiously. All 13 players practiced, but Kobe Bryant was limited to footwork drills "for activation," received therapy on his sore right knee and spent time in the weight room. Lakers coach Phil Jackson expects Kobe to spend time shooting Saturday and be ready by tip-off Sunday at 8:30 pm ET on TNT and ESPN Radio.
Oswalt Open to Trade, but On His Terms
Former All-Star Roy Oswalt told the Astros he's open to a trade, but preferably to a team that's contending right now. The 32-year-old righty has a full no trade clause, so any deals have to be approved by him first. Oswalt says he thinks he has only a couple of years left where he can be a major factor for a World Series level team and would like to have that chance.
Inter Milan Wins Champions League
Inter Milan won the Champions League final for the first time in 45 years Saturday after beating Bayern Munich 2-0. Diego Milito, an Argentinean striker, scored both goals for Milan in the 35th and 70th minute respectively. Inter Milan also won Serie A (the Premier Italian League) and the Italian Cup earlier this season.
Raptors all-star Chris Bosh would consider playing for the New Jersey Nets, a source told ESPN The Magazine's Ric Bucher. Bosh reportedly has developed a list of teams he would prefer to play for next season, and has added the Nets to the list. The Raptors, Bulls, Lakers, Knicks and Heat are the first five teams Bosh listed.
A 13-year-old American boy reached the top of Mount Everest Saturday. Jordan Romero became the youngest climber to reach the top of Everest, breaking the record as part of his quest to climb the highest peaks on all seven continents. Mount Everest, the world's highest mountain, stands at 29,035 feet above sea level.
Garrett Wittels Extends Streak to 48 Games
FIU sophomore Garrett Wittels hit an RBI double in the 3rd inning to extend his hit streak to 48 games. He now has sole possession of the 2nd longest streak in NCAA History. He is just 10 games behind the record, held by Robin Ventura (58 games) during the 1987 season. FIU's next game will be in the Sun Belt Conference Tournament which starts May 26th.