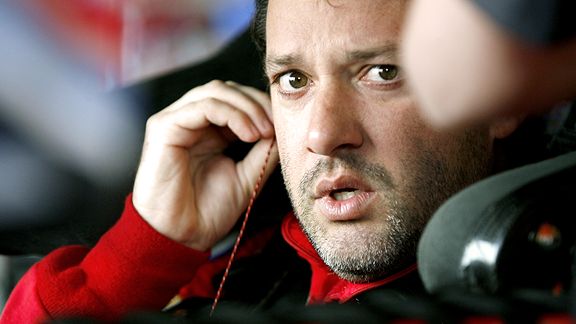 AP Photo/Mary Schwalm
I'll get you Jimmie Johnson. And your little crew chief, too
Jimmie Johnson might have owned the season (OK, and the three seasons before that, too) but Tony Stewart is king of the offseason. Well, a week of it. OK, a few hours of it.
This week is NASCAR Champion's Week in Las Vegas, filled with awards ceremonies for the drivers, interactive exhibits for the fans, and all that kind of cool "let's extend the season for as long as we possibly can" type of stuff. And Stewart – admittedly never one to be left out of the spotlight – will host his own event, the Stewies, (insert Lois Must Die joke here) on Thursday.
The third annual event features Stewart and co-host Matt Yocum honoring the funniest moments of the 2009 season. Categories include Most Spectacular Crash, Bonehead Move of the Year, and Most "Creative" Modifications to a Race Car. Those are real.
But Stewart will have some stiff competition for the title of funniest man in town.
Because ... Wednesday's roast of champ Jimmie Johnson will be emceed by — wait for it, wait for it — Carrot Top. Carrot Top!!!!
And Friday's award ceremony (the main event) will be hosted by Frank "remember me from the 2007 and 2008 baseball playoffs? No? I was on a commercial three times every inning, how could you not? " Caliendo. We wonder how they'll tie a George W. Bush impression into a NASCAR skit.