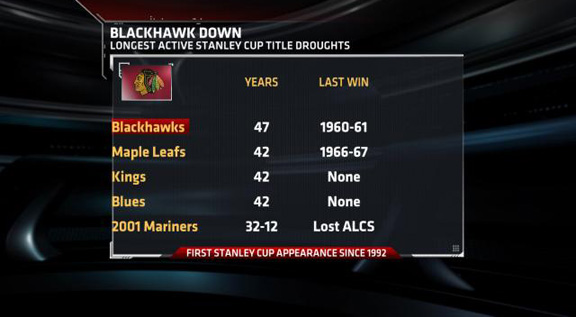 FILLING THE VOID: The Blackhawks are back in the Stanley Cup Final for the first time since 1992 and will try to win the Cup for the first time in 47 years. That is the longest drought for any team in the NHL. Chicago's last Cup came in 1961 when they beat the Red Wings.
After the jump, find out why it's déjà vu times two for Marian Hossa, who has the best record in baseball after 44 games and check out the list no NBA coach wants to see their name appear on.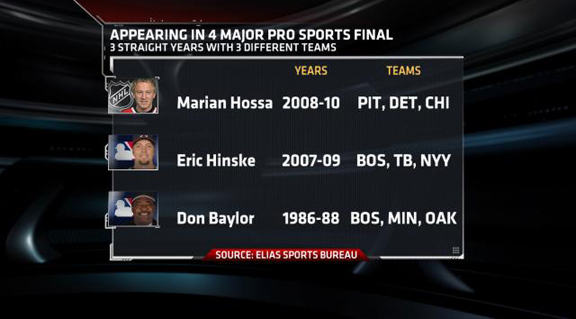 DEJA VU TIMES TWO: So Marian Hossa returns to the Stanley Cup Final for a 3rd straight year, with his 3rd different team. Don Baylor and Eric Hinske are the only players in any of the four sports to appear in the finals with three teams in three years. Hossa is trying to avoid losing in the Finals for a 3rd straight year, something neither Hinske nor Baylor did.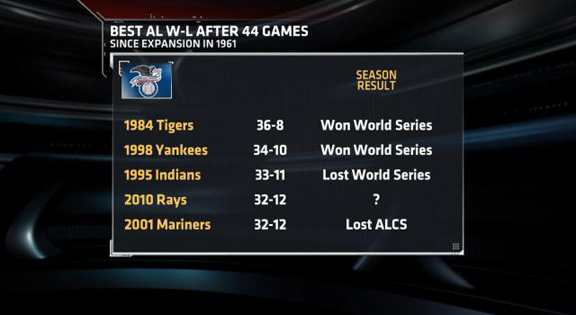 "THE RAYS ARE GREAT" UPDATE: Last year through 44 games, the Rays were a .500 team. Now this year, they are 20 games over .500 at the same point in the season. Since expansion in 1961, the Rays record of 32-and-12 is tied for the 4th-best start for an AL team through 44 games. It's the best start since the 2001 Mariners, who ended up losing in the ALCS after winning 116 regular-season games.
Rays 10 Astros 6 Game Recap | Box Score | Highlight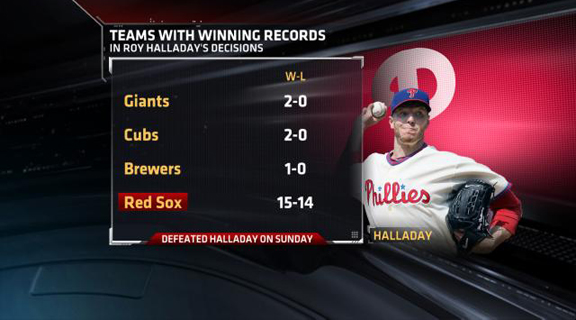 WHAT A HALLADAY: The Red Sox improve to 15-14 in the games where Roy Halladay had a decision in. They are the only American League team to have a winning record against Halladay. The only other AL team with a non-losing record currently against Halladay are the Rangers, who are 7-7.
Game Recap | Box Score | Highlight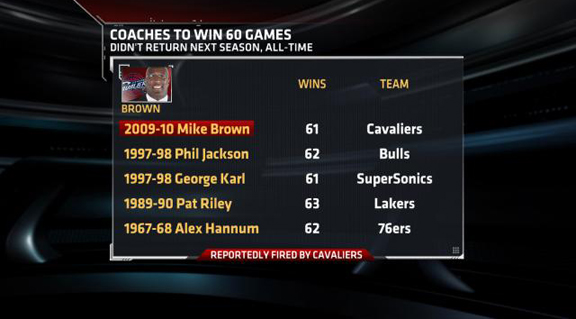 THANKS FOR THE MEMORIES: Mike Brown, the winningest coach in Cavaliers history, is let go following a season where he won 61 games. He will be just the 5th coach to not return in the season after winning 60 regular-season games. Brown leaves after guiding the Cavs to the playoffs in all 5 of his seasons. The Cavaliers had a midnight deadline Sunday night to fire the head coach or pay him his full $4.5 million salary for next season.
NOTE: The Elias Sports Bureau and ESPN Stats And Information Group contributed to this report.