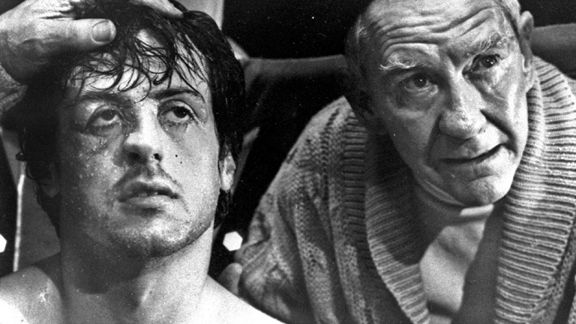 by ESPN Researcher Jason McCallum
The Flyers and the Blackhawks will meet in the Stanley Cup Finals (Saturday 8P ET), pitting 2 of the nation's largest cities against each other with a title at stake. Across the 4 major North American sports, Chicago and Philadelphia have met in the postseason 10 times and each has won 5 times. In terms of the championship round, however, Philadelphia holds a 3-1 advantage, winning 2 World Series and 1 of 2 NFL Championship Game meetings. The cities have not met in a championship round since the 1948 NFL Championship Game between the Eagles and the Chicago Cardinals.
However, the most fierce championship match-up between these cities took place inside the ropes…(here's a hint):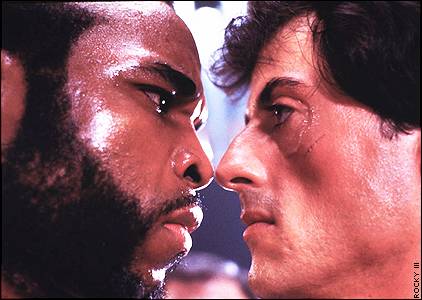 In 1982, Chicago tough guy Clubber Lang and Philadelphia underdog Rocky Balboa squared off twice in 1983's Rocky III. In the 1st matchup at The Spectrum in Philadelphia, Rocky lost his heavyweight crown via a 2nd-round KO to the hungry challenger. Rocky was distraught at the time, having seen his longtime manager Mickey mortally injured by Clubber in a pre-fight scuffle near the locker rooms. But later, at Madison Square Garden and under the tutelage of former champ Apollo Creed, Rocky returned the favor with a 3rd-round KO of the loudmouth from Chicago.
According to their Wikipedia Profiles (no, I am not kidding):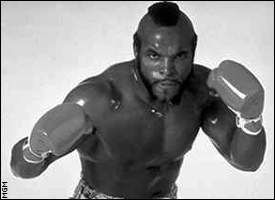 James Lang was orphaned at an early age, and spent most of his childhood in the streets of Chicago's South-side, as well as time in orphanages and juvenile facilities. Later as an adult, Clubber was sent to prison for five years, for one possible count of a felony and/or assault charge. But during his time being served he discovered boxing as a way to let out his frustrations and talent, which leads to the events of Rocky III.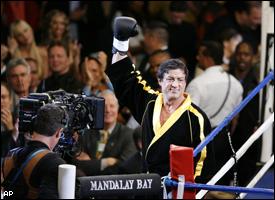 Robert Balboa was born in April 1946 as the only child to a Roman Catholic Italian-American family. Up to 1975, Balboa was living in the slums of the Kensington section of Philadelphia, working as an enforcer for a local loan shark while at the same time fighting the local club circuit, including the Cambria Fight Club, nicknamed "The Bucket of Blood". By this time, Balboa had fought in 64 fights, winning 44 (38 knockouts) and losing 20.
Notable Awesome Movie Quotes:
Interviewer: What's your prediction for the fight?
Clubber Lang: My prediction?
Interviewer: Yes, your prediction.
Clubber Lang: [Clubber looks into camera) Pain!
----------
Clubber Lang: I'm the baddest man in the world.
Rocky Balboa: You don't look so bad to me.
Clubber Lang: What did you say, Paper Champion? I'll beat you like a dog, a dog, you fool!
----------
Clubber Lang: I'm going to bust you up.
Rocky Balboa: Go for it.
And of course, for those of you more interested in the conventional sports match-ups in the postseason between Philadelphia and Chicago:
NBA:
Bulls defeated 76ers 4-1 in 1991 Conference Semifinals
Bulls defeated 76ers 4-1 in 1990 Conference Semifinals
NFL:
Eagles defeated Bears 33-19 in 2001 Divisional Game
Bears defeated Eagles 20-12 in 1988 Divisional Game (Fog Bowl)
Eagles defeated Bears 27-7 in 1979 Wild Card Game
Eagles defeated Chicago Cardinals 7-0 in 1948 NFL Championship Game
Chicago Cardinals defeated Eagles 28-21 in 1947 NFL Championship Game
MLB:
Philadelphia Athletics defeated Chicago Cubs 4-1 in 1929 World Series
Philadelphia Athletics defeated Chicago Cubs 4-1 in 1910 World Series
NHL:
Blackhawks defeat Flyers in 1971 Quarterfinals
See you Saturday night. Don't forget to bring your scorecard.