Magic 113, Celtics 92 (Celtics lead series 3-2)
We have a series. For the first time in their history, the Celtics are forced to a 6th game after leading a best-of-7 series 3-0 (11 previous series all ended within 5 games), thanks to the Magic's 113-92 victory. Magic are just the 10th team in NBA history to force a Game 6 after going down 3-0 in a best-of-7 series (out of the 94 teams that have faced a 3-0 deficit). The Celtics fall to 0-4 this postseason when allowing 100+ points. Dwight Howard led the Magic with 21 points, 10 rebounds and 5 blocked shots. He's the 1st player to have 5 games with 5+ blocks in a single postseason since Tim Duncan had 7 such games en route to the 2007 NBA Title.
See how the Celtics are having trouble closing....after the jump.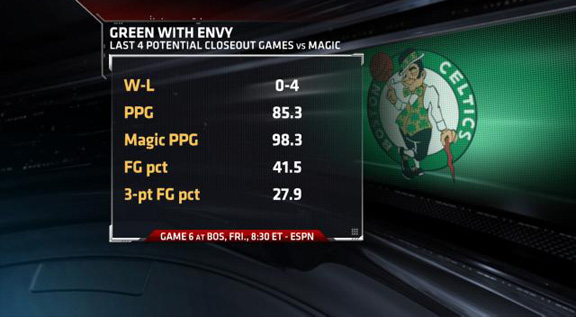 When facing elimination against the Celtics in the last 2 postseasons, the Magic are 4-0 and (Games 6 and 7 of 2009 Conf Semis and Games 4 and 5 of this series) they're the first team in history to win 4 straight games vs the Celtics when facing elimination.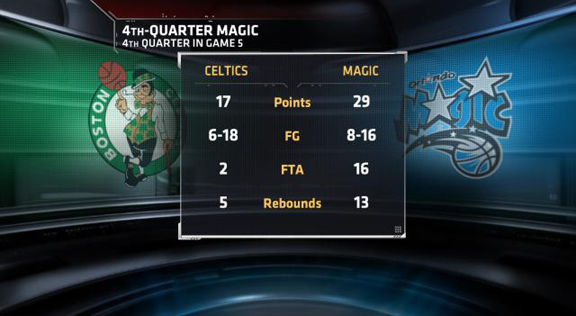 The Celtics disappeared in the 4th quarter last night, scoring just 17 points on 6-for-18 shooting. They were out rebounded 13-5 and attempted just 2 free throws to the Magic's 16 attempts. Orlando shot 50 pct from the floor in the final 12 minutes.