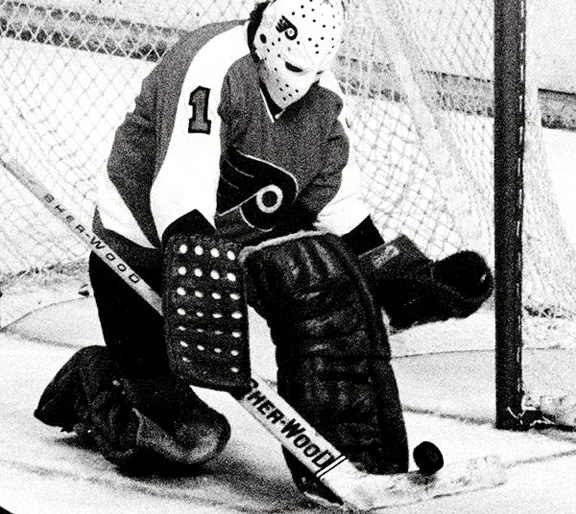 Bruce Bennett Studios/Getty Images
Quite fittingly, Bernie Parent was the Sabres' daddy in the 1975 Stanley Cup Finals.
May 27, 1975 - The Philadelphia Flyers, defending Stanley Cup champions, brought back-to-back NHL titles to Broad Street with a 2-0 shutout of the Buffalo Sabres and a 4-2 series win. In doing so, the 1975 Flyers became the last Stanley Cup championship team to be comprised solely of Canadian-born players.
The original Broad Street Bullies were led by toothless team captain Bobby Clarke and Bernie Parent, the Stanley Cup Playoffs MVP. Parent was dominant throughout the finals, allowing only 12 goals in six games on his way to becoming the first player to win the Conn Smythe Trophy in two consecutive years. Super Mario Lemieux is the only player to have accomplished the feat since, in 1991 and 1992.
To this day, Philadelphia's 1975 Stanley Cup victory continues to be remembered for two entirely different reasons. First, Game 3 of the series was the legendary Fog Game in which players, officials, and fans could barely see the puck through the dense fog inside the The Aud in Buffalo. Before the fog rolled in, Sabres center Jim Lorentz spotted a bat flying low across the ice, which he swung at and killed with his stick. Although the Sabres went on the win Game 3 in overtime, many superstitious fans in the Buffalo area still consider this to be the beginning of the end of the series.
The second reason why the Flyers' 1975 Stanley Cup victory stands out for hockey historians is it marks the last time that this storied franchise hoisted the cup to end a season. The Flyers have returned to the Stanley Cup Finals six times since 1975 and have five second-place finishes (and zero titles) to show for their efforts. Their sixth trip? Well, that starts this Saturday in Chicago (fog and bats notwithstanding, of course).