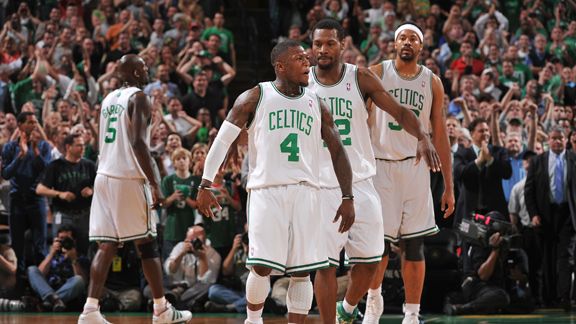 Jesse D. Garrabrant/Getty Images
Nate Robinson Helps Celtics Advance To Finals
Looking for a spark at home, the Celtics turned to Nate Robinson who spelled a banged-up Rajon Rondo, and never looked back. Robinson scored 13 points off the bench and energized the Celtics, who were led in scoring by Paul Pierce's 31 and Ray Allen's 20 points in the 96-84 victory. Boston will travel to either the Los Angeles Lakers or the Phoenix Suns to begin the NBA Finals Thursday night on ABC and ESPN Radio.
What appeared to be a promising season for RB LenDale White, has hit a major speed bump. White has been waived by the Seahawks. A league source told ESPN NFL Insider Adam Schefter the former Titans RB is facing a four-game suspension from the NFL for violating the league's substance-abuse policy.
UConn Cited For Basketball Violations
Hard times for a major college powerhouse, the UConn Huskies men's basketball team. The NCAA informed the university of eight major violations regarding their program, including two assistant coaches, who have already resigned, but also cites Hall of Fame head coach Jim Calhoun for "failing to promote an atmosphere of compliance".
Guillen, Buehrle and Umpire Fined For Argument
Major League Baseball wants teams and umpires to get along. Umpire Joe West, White Sox manager Ozzie Guillen and pitcher Mark Buehrle were fined an undisclosed amount by MLB Friday for their recent balk argument. A person familiar with the decision told The Associated Press there were not any suspensions.
Wade OK For Plans To Talk Free Agency
The NBA says Dwyane Wade did not break any league tampering rules by saying he wants to talk with other marquee players before deciding whether to stay with the Miami Heat. Earlier this week, Wade said that he will discuss options with LeBron James and other stars about their options this summer.
Nets To Interview Avery Johnson
New Jersey Nets GM Rod Thorn will officially begin his coaching search by interviewing Avery Johnson. Thorn will meet with Johnson Saturday, but that doesn't necessarily make him a favorite for the job.
Mourinho Leaves Milan For Real Madrid
Jose Mourinho is set to coach Real Madrid in a deal between European soccer powers, leaving Inter Milan less than a week after guiding the Italian club to the Champions League title. The agreement was announced after a meeting in Milan between Madrid president Florentino Perez and Inter counterpart Massimo Moratti.
Venus Williams has advanced to the fourth-round at Roland Garros and says she will retire her black lace dress that's drawn so much attention once the French Open wraps-up. "As great as the design is, I really want the focus to be on the tennis," Williams said.
Florida International's Wittels Inching Closer To Ventura's Mark
Florida International's Garrett Wittels inched closer to NCAA history Friday. Wittels now has a 52-game hitting streak, six shy of tying Robin Ventura's NCAA Division I record of 58 games set in 1987 after getting hits in both of FIU's games at the Sun Belt Conference tournament.
Phil Mickelson missed his first cut of the year, finishing a 4-over-par 144, with the cut being -2 at the Colonial in Fort Worth, Texas. Because of the missed cut, Mickelson also missed the opportunity to pass Tiger Woods as the current world's #1 golfer.