June 2, 2010 1:00 PM ET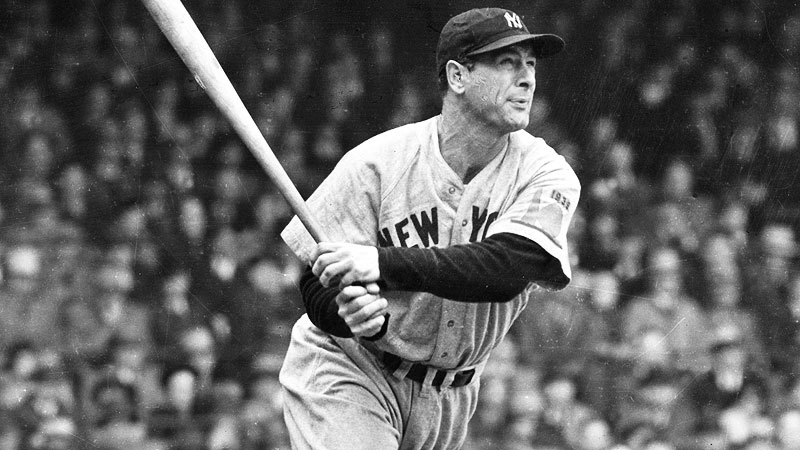 Mark Rucker/Getty Images
Lou Gehrig earns his spot in the Yankees' lineup, and passes away exactly 16 years later.
June 2, 1925
: Rookie first baseman Heinrich Ludwig "Lou" Gehrig
replaces regular Wally Pipp in the powerful Yankees' lineup
because Pipp was suffering from a headache. Nobody knows it at the time, but it will not be until 1939, after a record 2,130 consecutive games, before Gehrig sits one out.
Batting sixth, the rookie who would become known as the "Iron Horse" gets two singles and a double in his first three at-bats as the Yankees beat the Senators, 8-5. This game is actually the second in Gehrig's streak, as he pinch-hit the day before. It is quite the beginning to a legendary career, and a perfect lesson for bench players everywhere for what can happen when you make the most of an opportunity to play.
June 2, 1941
: Exactly 16 years to the day after he became the Yankees' regular first baseman, the Iron Horse died of ALS (amyotrophic lateral sclerosis), a rare disease that would become commonly known as Lou Gehrig's disease. He was 37 years old.
Although the Hall of Famer is often remembered for the
stoic speech
that he delivered to a packed stadium as he bid farewell to the game, Gehrig was also without question an unbelievable talent on the field. In Gehrig's 14 seasons as a regular, the Yankees won seven pennants and six World Series. The Iron Horse finished his baseball career with 493 home runs, 1,990 RBIs, and a .340 batting average.
Tags: This Day in Sports, New York Yankees, Lou Gehrig, This Day in Sports, ALS, Wally Pipp, Lou Gehrig Disease