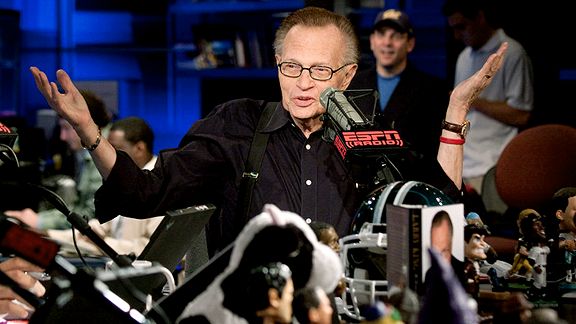 John Atashian/ESPN
Don't play coy with us, Larry. LeBron told you where he wants to go, didn't he?
This is one of those weekends when you just have to sit back and wish for rain so you won't feel so bad about watching sports on TV for 23 of each day. Because there's that much stuff worth watching this event-filled weekend: LeBron on Larry King, a battle in the Bronx, a Spaniard looking to dominate France – and we haven't even touched on the NBA and NHL Finals yet! So let's break down the weekend already, retail style.
French Open: Men's Semifinals
Friday at 7 a.m. (ET)
The men's semifinals, featuring Rafael Nadal vs. Jurgen Melzer and Robin Soderling vs. Tomas Berdych, kick off a busy French Open weekend. The women's final (Saturday at 9 a.m. ET) will star first-time Grand Slam finalists in Francesca Schiavone and Samantha Stosur, and the men's final is set for Sunday at 9 a.m. ET. Looking for a way to show your support? We can think of one way. And if you guessed the one way was this shirt, you're right.
Stanley Cup Finals Game 4: Blackhawks at Flyers
Friday at 8 (ET)
The Blackhawks are up, 2-1, in the series, but they could use a little momentum headed into Game 4 tonight because the Flyers seem to have a little momentum of their own after their 4-3 overtime win Wednesday night. Nothing says momentum like a Blackhawks wire hologram lawn figure. The 150 lights covering each mini plastic Blackhawk will have Chicago shining again in no time. Or so Blackhawks fans hope.
LeBron-a-palooza: King James' "Larry King Live" Interview
Friday at 9 (ET)
Pop some corn, ease into your armchair, and pretend like you don't already know the answers to the questions Larry asks LeBron. As for what to wear while watching the interview? Well, it's so hard to know what to don in support of LeBron these days. Does a Cavs jersey still do the trick? We don't know. But we do know this Larry King cartoon sweatshirt is always in fashion. And by "in fashion" we mean "totally ridiculous."
Belmont Stakes
Saturday at 5 (ET)
There's no shot at a Triple Crown winner being crowned. In fact, neither Kentucky Derby winner Super Saver nor Preakness winner Lookin At Lucky will be in the field at Belmont Park Saturday. But Belmont favorite Ice Box, a horse that finished second in the Derby, should provide more than enough excitement. May we suggest keeping your horse racing drinks of choice cold in this vintage ice box? How apropos.
Yuri Foreman vs. Miguel Cotto at Yankee Stadium
Saturday at 10:15 ET (on HBO)
It's not Pacquiao-Mayweather, but it is a boxing match. And it is at Yankee Stadium, so we're expecting big things from Cotto-Foreman, aka the Stadium Slugfest aka the Super Welterweight Championship. And while everyone in the country might not be a fan Yuri Foreman, everyone in the country is most definitely a fan of this Yuri Foreman t-shirt. Or at least they should be.
NBA Finals Game 2: Celtics at Lakers
Sunday at 8 (ET)
It might not have look liked it from the beating the Celtics took Thursday night in Los Angeles, but Boston is the first team in NBA history to reach the Finals after posting a better road record than a home record during the regular season (26-15 on the road and 24-17 at home). How can Celtics fans help their team get its road mojo back for Game 2 Sunday night? We can think of no better way than by going on their own road trip with a car decked out in Celtics gear. Only $26 for a license plate, license plate holder, bumper sticker, keychain AND decals? What a steal, which is exactly what the Celts need to do with Game 2 if they're going to have a chance in this series.