June 7, 2010 8:45 AM ET
NBA Finals Game 2 - Celtics 103, Lakers 94 (Series tied 1-1)
The
Celtics
evened the 2010 NBA Finals at one game apiece with a 103-94 win in Game 2 at the
Lakers
. During the win,
Ray Allen
made 8 three-pointers, establishing a record for the most shots made from beyond the arc in a game in NBA Finals history. The old record of 7 was shared by 3 players (the same Ray Allen in 2008,
Scottie Pippen
in 1997 and
Kenny Smith
in 1995). Rajon Rondo added a triple-double, and now has 316 points, 108 rebounds and 188 assists this postseason. He joins
Jason Kidd
(1x),
Isiah Thomas
(1x) and
Magic Johnson
(6x) as the only players in NBA history to post at least 300 points, 100 rebounds and 180 assists in a single postseason. The Celtics return home for the next three games (Game 3: Tuesday 9:00 PM ET on ABC). And of the 32 times the NBA Finals have been tied 1-1, the winner of Game 3 went on to win the title 28 times.
Game Recap
|
Box Score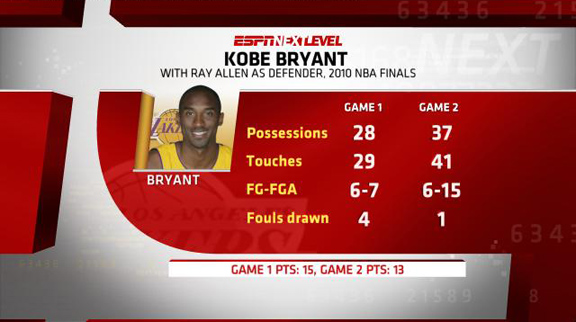 We take you Next Level to show you how
Kobe Bryant
fared against
Ray Allen
when Allen was defending him. In Game 1, Kobe touched the ball 29 times compared to 41 on Sunday. He missed just one shot from the floor in Game 1, but shot just 40 percent in Game 2. Kobe only drew one foul against Allen Sunday compared to four in Game 1.
Here are 3 quick notes to prepare you for Game 3:
- The Celtics are 20-17 in Game 3 of a best-of-7 series when it's tied 1-1 (and 5-5 in such games in the Finals)
- The Lakers are 26-14 in Game 3 of a best-of-7 series when it's tied 1-1 (and 12-6 in such games in the Finals)
Tags: Video, SC Highlight Of The Night, Scottie Pippen, Los Angeles Lakers, Kobe Bryant, Boston Celtics, Magic Johnson, NBA Finals, Jason Kidd, Isiah Thomas, Ray Allen, Kenny Smith