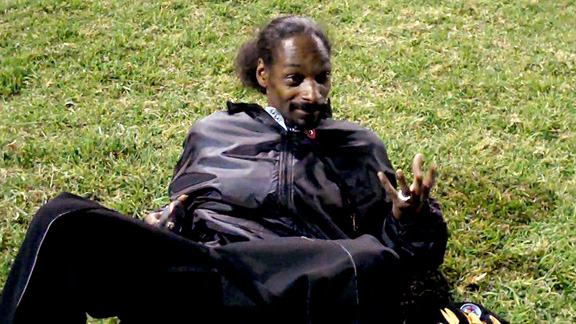 Mary Buckheit/ESPN.com
Snoop's been into videogames ever since "Double Drizzle" came out for the 8-bit Nintendogg system.
2K Sports has been on a promotional roll of late. Back in May, they awarded an Alabama man with a million-dollar giant novelty check for pitching a perfect game in "MLB 2K10" using fifth Braves starter Kenshin Kawakami. Last week, they announced Michael Jordan as the cover athlete for the latest incarnation of their pro basketball videogame simulation, "NBA 2K11." Now comes word that Snoop Dogg is currently doing motion capture in order to have his own avatar in the game. MJ and Snoop in one game? Either the development team is trying to beat the Wii's NBA Jam remake to the punch or they're stuck in a time warp where the Bulls are champs and Doggystyle just dropped.
As long as 2K sports is including iconic figures from sports and music, who and what else can we expect to see in the game? Here are a few suggestions of other things to include from yesteryear:
1. Include alternate uniforms, rules and haircuts from MTV's Rock N Jock basketball. Nothing like seeing Jordan launching fall-away jumpers from 25-point range. Is Mark Wahlberg available to mo-cap his classic 1991 halftime show with the Funky Bunch?
2. Offer the ability to unlock all the flaming roundball power-ups of "Michael Jordan: Chaos in the Windy City."
3. Every achievement in the form of POGs.
4. Bring back Kareem in his Roger Murdock uniform from "Airplane!" if only to determine who's the better virtual airplane comedy co-pilot.
5. Load the soundtrack with the lyrical styles of Shaquille O'Neal, Cedric Ceballos and Dana Barros. On second thought ...
"NBA 2K11" is set to pull off its warm-ups on October 5.