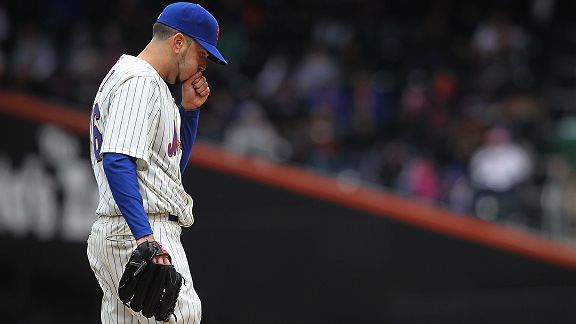 Jim McIsaac/Getty Images
MLB Investigating Oliver Perez's Injury
Major League Baseball was awaiting medical records from the New York Mets regarding left-hander Oliver Perez's abrupt trip to the disabled list Saturday, according to ESPNNewYork.com. Perez officially was placed on the DL with right knee tendinitis, but given the circumstances with Perez declining to go to the minors, MLB officials want to confirm an actual medical issue.
Watch Your Language Mr. Rooney
Wayne Rooney has been warned he risks being sent off in the World Cup if he behaves as he did during England's warm-up victory over Platinum Stars. Within minutes of coming on as one of ten half-time replacements, Rooney subjected local referee Jeff Selogilwe to a tirade of abuse. He was reportedly unhappy that a string of fouls against England had gone unpunished. "Rooney insulted me," Selogilwe told reporters. "He's a good player when you see him on the television, but when you see him on the pitch he just keeps on insulting the referee. To me, it looks like Rooney insults people and fouls other players. If he insults a referee like me then he will use that vulgar language to other referees as well."

Papa John's - The Official Pizza Of The NFL
The NFL has a new pizza delivery man. If you watch a lot of football, get ready to see a barrage of Papa John's commercials. Papa John's leapfrogged two larger rivals to land a deal as the official pizza sponsor of the National Football League and the Super Bowl. The three-year, multimillion-dollar contract kicks off in the upcoming season and runs through the 2012 season. Papa John's is the third-largest pizza company behind Pizza Hut and Domino's. Only 92 days until the NFL season kicks-off!