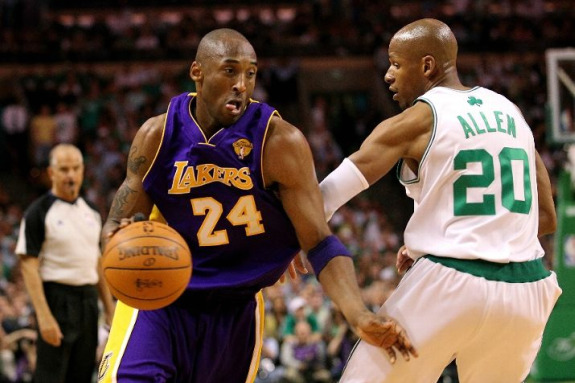 Ronald Martinez/Getty Images
Lakers Bounce Back, Take Game 3
The Los Angeles Lakers survived a big 2nd half comeback from the Celtics to win Game 3, 91-84. Kobe Bryant suffered through an off night shooting, but still managed to lead L.A. with 29 points. Derek Fisher came through with 16 points, including 11 in the 4th quarter. Celtics forward Kevin Garnett had his best game of the series, scoring 25 points, but an 0 for 13 night from Ray Allen was too much for Boston to overcome. Game 4 is Thursday at 9pm ET on ABC.
Strasburg Sensational In Debut
Stephen Strasburg came with more hype than any prospect in recent memory. Tuesday, he lived up to it in a sparkling debut. Strasburg pitched 7 full innings, struck out 14 batters, and didn't issue a single walk. The rookie phenom picked up the win as the Nationals hung on to beat the Pirates 5-2.
The Baltimore Orioles are looking for a new manager and one household name has already reportedly shown up on their wish list. According to the Baltimore Sun, Bobby Valentine, currently working as an ESPN baseball analyst, will be interviewed by the Orioles soon. The meeting could take place as early as Thursday or Friday. Valentine last managed for the Chiba Lotte Marines of Japan's Pacific League.
Obama Says MLB Should Consider Expanded Replay
President Barack Obama said MLB should "take a look" at expanding instant replay. After seeing the Jim Joyce's blown call that cost Armando Galarraga a perfect game the Commander in Chief thinks the time for change is now. He also said he thought commissioner Bud Selig "made the right call" in not awarding a perfect game after the fact.
New York Jets cornerback Darrelle Revis skipped a voluntary practice last week because of a contract dispute. Today, he returned to the Jets. Revis wants to be the highest-paid cornerback in the NFL, and the two sides are far apart in talks. He's looking for at least $16 million per year, based on Nnamdi Asomugha's contract with the Oakland Raiders.
Saints Brighten Spirits In Oil Spill-Weary Area
The Super Bowl champion Saints visited the coastal Plaquemines Parish in Louisiana today, an area affected by the Gulf oil spill. Head coach Sean Payton said the Saints planned to attend a lunch at the governor's mansion, but Gov. Bobby Jindal and the team decided it would be more appropriate to support those suffering from the worst oil spill in the nation's history.
Forward Jozy Altidore resumed full training with the U.S. soccer team Tuesday, six days after spraining his right ankle. "I feel great. The ankle feels fine," Altidore said. "It's a little sore, but I had no issues participating in all the exercises today." Altidore, who has nine goals in 25 international appearances, didn't play in Saturday's 3-1 exhibition win over Australia. The U.S. plays its 2010 FIFA World Cup opener against England on Saturday at 2:30pm ET on ABC.
Watch Your Language Mr. Rooney
Wayne Rooney was warned he risks being sent off in the 2010 FIFA World Cup if he acts like he did in England's warm-up victory over the Platinum Stars. Within minutes of coming on as a half-time replacement, Rooney subjected local referee Jeff Selogilwe to a tirade of abuse. He was reportedly unhappy that a string of fouls against England had gone unpunished.
UCLA Wins Softball National Title
UCLA won its 11th Women's College World Series title on a record-setting night. The Bruins beat Arizona 15-9 in a slugest that included a World Series- record seven home runs. Andrea Harrison hit a grand slam, and Megan Langenfeld homered for the 3rd time in the last two games to help UCLA get the win.