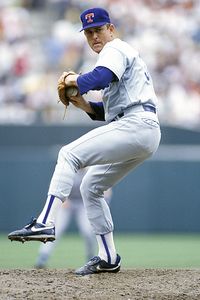 US Presswire
Nolan Ryan pitched a record seven no-hitters and yet never needed his arm removed.
June 11, 1990: Nolan Ryan hurls the sixth no-hitter at the age of 43 before 33,436 fans at Oakland – Alameda County Coliseum. The Texas right-hander strikes out 14 (sound familiar?) and walks two against an Oakland team sorely missing the Bash Brothers in the line-up, neither of whom make a plate appearance in the game.
But somehow Ryan isn't done and he will go on to record a seventh no-hitter the following year at the age of 44, and will retire in 1993 after 27 seasons in the big leagues. He is the last baseball player to play in a game from the sixties, outlasting Carlton Fisk (who, like Ryan, was not afraid to "play" against players half his age). At the time of his retirement Ryan had set records for most strikeouts (5,714), no-hitters (7) and 1-hitters (12, tied with Bob Feller) as well as the more ignominious record for most walks allowed (2,795).
The A's would go on to successfully defend their pennant but were swept by the Cincinatti Red and Sweet Lou Piniella in the 1990 World Series.
Ryan was the first player to wear the cap of all four original expansion teams and pitched no-hitters for each one except, of course, the Mets.