June 9, 2010 11:59 PM ET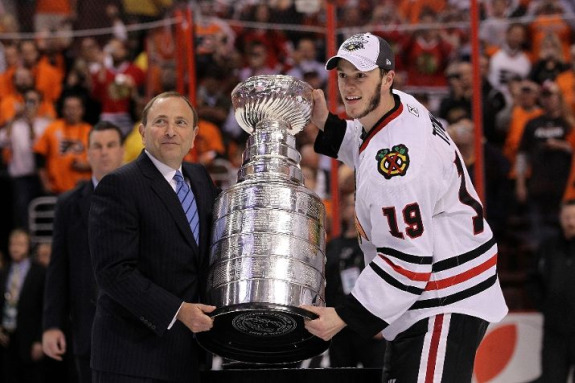 Bruce Bennett/Getty Images
Blackhawks Win the Stanley Cup, 4-3 in OT
After a 49-year wait, the Chicago Blackhawks are the Stanley Cup champions. Chicago forward Patrick Kane put the game-winner past Michael Leighton in overtime sending his team into jubilation. Scott Hartnell scored twice for Philadelphia, including the tying goal late in the 3rd period, but it wasn't enough. Jonathan Toews won the Con Smythe Trophy as the MVP of the NHL Playoffs. At 22 years old he is the 2nd-youngest player to ever win the award.
Huskers Looking To The Big Ten
All signs are pointing to a Nebraska move to the Big Ten. A source close to the Nebraska Board of Regents has told Orangebloods.com, the university regents met informally today, and have agreed to move to the Big Ten. A formal announcement could come on Friday. The Big Ten has officially offered a spot to the Cornhuskers.
USC Faces 2-Year Ban
Sources say USC will face a 2-year postseason ban and a reduction in scholarships. According to ESPN reporter Shelley Smith USC football will also forfeit wins from at least the 2004 season. ESPN the Magazine's Bruce Feldman confirmed the two-year postseason ban and a reduction in scholarships from a second USC source. USC will respond on Thursday to the sanctions and will likely appeal the decision.
After the jump: Roethlisberger Video Released, Team USA Soccer Healthy, Tiger Playing for Charity, Stoudemire Might Opt out, Avery to the Nets, and Masoli in Trouble Again.
Tape: Woman Feared Roethlisberger's Temper
A video of the interview between the college student who accused Ben Roethlisberger of sexually assaulting her was released Wednesday. In the video she said she didn't try to fight him off because he appeared earlier in the night to have a short temper and figured resisting wouldn't help. The accuser's interview is among more than 50 audio and video recordings released today by Georgia authorities.
Team USA Getting Healthy
Jozy Altidore and Oguchi Onyewu are fit enough to play in the United States 2010 FIFA World Cup opener against England this weekend. Altidore resumed full practice Tuesday, six days after the forward sprained his right ankle in practice. Despite tearing his left patellar tendon Oct. 14, Oguchi Onyewu is also responding well and will be available. See if they play on Saturday at 2:30pm ET on ABC.
Commitment to Charity
Tiger Woods plans to leave the country next month, to play in a charity pro-am in Ireland July 5-6. The 36-hole pro-am at Adare Manor, a former Irish Open venue, takes place the week before the British Open at St. Andrews. More important than a tune-up for St. Andrews, Woods wrote that he understands "the importance and necessity of raising funds to help deserving individuals."
Stoudemire to Opt Out...Unless
Speaking at a basketball camp Tuesday, Amar'e Stoudemire said he will opt out of the final year of his contract and become an unrestricted free agent if the team doesn't sign him to a new deal by June 30th. Stoudemire says he deserves a max contract, which could be up to six years, $127 million if he re-signs with the Suns.
Avery Johnson And Nets Dealing
The New Jersey Nets and representatives for Avery Johnson have reached a verbal agreement that would make Johnson the Nets next head coach. Johnson last coached in the NBA in 2008 with the Mavericks and led them to the Finals in 2006. The Nets had the NBA's worst record this season at 12-70, but Johnson brings with him the highest winning percentage in NBA history.
Oregon Boots Masoli Off Team
Oregon has kicked quarterback Jeremiah Masoli off the team. He was already suspended for the 2010 season after pleading guilty to burglary charges in connection with a January fraternity house case. On Monday, Masoli was arrested again, cited for marijuana possession and driving infractions.
Tags: NFL, Tiger Woods, Big Ten, Nebraska, New Jersey Nets, NHL, Pittsburgh Steelers, Big 12, Ben Roethlisberger, Amare Stoudemire, PGA Tour, golf, USC Football, Jeremiah Masoli, Oregon Football, 2010 FIFA World Cup, Avery Johnson, USC Trojans, Cornhuskers, USC Basketball, Oguchi Onyewu, Team USA Soccer, Video, Jozy Altidore