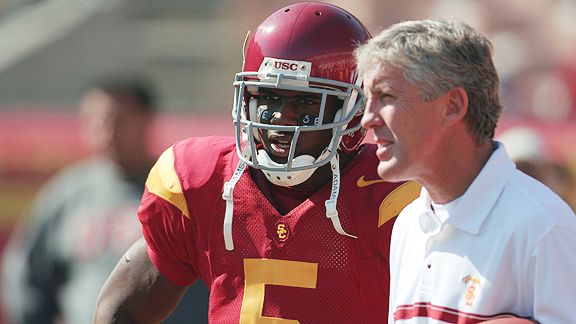 TROJAN HEARSE
USC is facing a two-year bowl ban and the loss of over 20 football scholarships as a result of a four-year NCAA investigation focused on former star Reggie Bush. And a source told ESPN's Shelley Smith that the school will also be forced to vacate wins from at least the 2004 season - the one that ended with their second-straight national championship after a 55-19 win over Oklahoma. An official announcement could come as early as today.
Read | 2005 FedEx Orange Bowl National Championship
More from The Rundown, including a look ahead to the NBA Finals tonight, the epic losing streak you haven't heard about, and where LeBron can go if he only wants to win, after the jump.
NEWMAN!
The Lakers have a 2-1 series lead in these 2010 NBA Finals, with Game 4 tonight at the Garden (9:00 ET, ABC). And in the history of the Association, the Lakers have led the Finals 2-1 on 16 previous occasions. They went on to win the NBA title on 13 of those 16 occasions. The three times they lost? In 1962, to the Celtics. In 1969, to the Celtics. And in 1984, to the Celtics.
0-23
Chris Capuano was scheduled to start this afternoon for the Brewers against the Cubs (2:10 ET). Somehow, the Brewers had lost 23 straight games in which Chris Capuano has pitched, including 19 straight starts. And incredibly, the 19 only ties the record for the most consecutive games a team has lost when started by a single pitcher (see also: Tom Sheehan in 1916, Bob Groom in 1909, and Blondie Purcell in 1880). Milwaukee has not won a single game in which Capuano has pitched since May 7, 2007 and he is personally 0-13 since then. That might be why Ken Macha moved him to the bullpen yesterday. Dave Bush gets the call instead. (But that doesn't mean Capuano can't come on in relief, Cubs fans.)
Preview | Chris Capuano | 'So you're telling me there's a chance...'
"LeBron talks all the time about how winning is important to him. Well, the last time we lost to our opponent was 1971."
- Everyone's talking about whether LeBron James will stay in Cleveland with the Cavs, or leave for greener pastures. Maybe in Chicago with the Bulls. Maybe in Miami with the Heat. Maybe in Harlem with the Globetrotters?