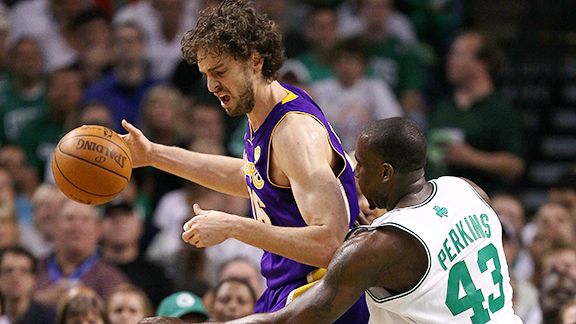 Elsa/Getty Images
Los Angeles Lakers at Boston Celtics -- Game 4 -- (LAL leads series 2-1)
9:00 PM ET -- TD Garden, Boston, MA -- ABC
The Lakers have a 2-1 series lead in the 2010 NBA Finals. In NBA history, the Lakers have led the Finals 2-1 on 16 previous occasions and have gone on to win the NBA title on 13 of those occasions. Pau Gasol is having a historically good Finals for a big man, averaging 20.3 points, 10.7 rebounds, and 3.7 blocks through the first 3 games of the series. Despite Gasol's stellar play, much of the talk in the series has been about the officiating. Celtics coach Doc Rivers said Game 3 star Derek Fisher did a lot of flopping and that Paul Pierce wasn't as aggressive as usual because he said he didn't want to pick up another foul. So tonight, as Boston looks to knot the series at two, they'll not only have to overcome the Lakers' strong play, but also the mind games caused by the officials' calls.
Game Preview: LAL vs BOS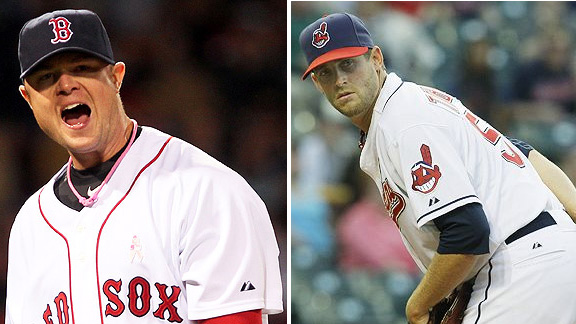 AP Photo/Amy Sancetta/Jim Rogash/Getty Images
Boston Red Sox (35-26) at Cleveland Indians (22-36)
7:05 PM ET -- Progressive Field, Cleveland, Ohio
Starting Pitchers
Boston: Jon Lester (7-2, 2.73 ERA)
Cleveland: Mitch Talbot (7-4, 3.54 ERA)
Boston and Cleveland close out a four-game series tonight, each sending seven-game winners to the hill. After Wednesday's 11-0 loss to the Indians, Boston may have just the answer. Jon Lester, who takes the ball looking for his eighth-straight decision, hasn't lost in seven-career starts against Cleveland. Lester hasn't lost since April 18 and is 7-0 with a 1.29 ERA in nine starts. Opponents are batting .157 against him in that stretch. Mitch Talbot is on the hill for the Indianst. He has accounted for nearly one-third of his team's wins.
Game Preview: BOS vs CLE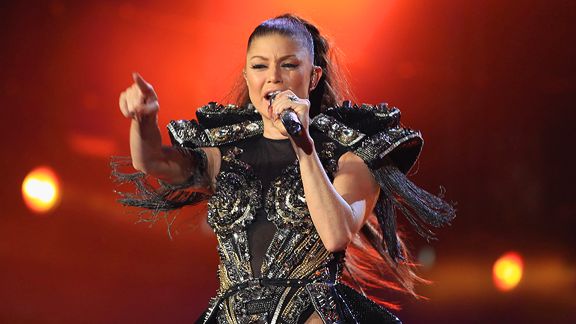 Martin Rose/Getty Images
The World Cup festivities kicked off today, including a concert featuring the Black Eyed Peas, Alicia Keys, Shakira, Fergie and a host of African artists. The opening matches are now just hours away.
South Africa (0-0, Group A) vs Mexico (0-0, Group A)
10:00 AM ET, June 11, 2010 -- Soccer City Stadium, Johannesburg, South Africa -- ESPN, ESPN3
Game Preview: SAF vs MEX
Uruguay (0-0, Group A) vs France (0-0, Group A)
2:30 PM ET, June 11, 2010 -- Cape Town Stadium, Cape Town, South Africa -- ESPN, ESPN3
Game Preview: URG vs FRA
Note: The Elias Sports Bureau and ESPN Stats and Information group contributed to this report.