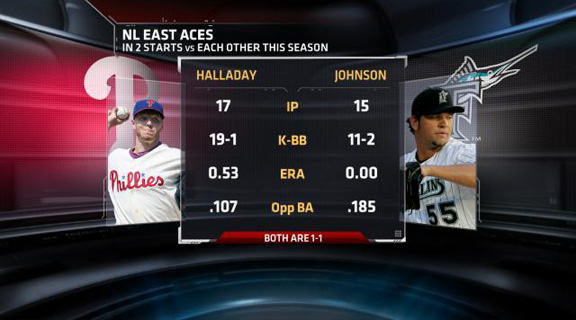 ARMS RACE: Josh Johnson throws 8 scoreless innings to get the better of Roy Halladay, who allowed just 1 run. When these two got together 2 weeks ago it was Johnson who was the tough-luck loser. He allowed one unearned run. Halladay threw one of those perfect games that have been so trendy this season.
Game Recap | Box Score | Highlight
After the jump, find out which team has the most 1-hit shutouts by its starting pitchers since 1962 (hint: think NL) and who Kobe doesn't want guarding him in Game 5 of the NBA Finals.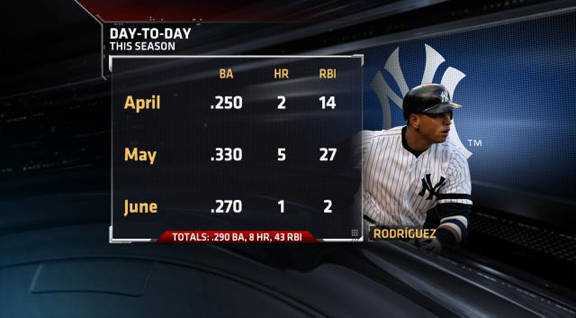 JUST A MATTER OF TIME: A-Rod got off to a slow start this season hitting just .250 with 2 home runs in April but vintage A-Rod appeared in May as he hit .330 with 8 home runs and 27 RBI in May. He's clearly been slowed by injuries in June with just 2 RBI in 9 June games. Rodriguez will visit a team doctor after leaving Thursday's game with tightness in his right groin and may have an MRI, the team's official web site reports. "I took my ground balls, and right before BP I just felt kind of like a cramp," he said. "It's hard for me to describe. I've never felt that way before."
Game Recap | Box Score | Highlight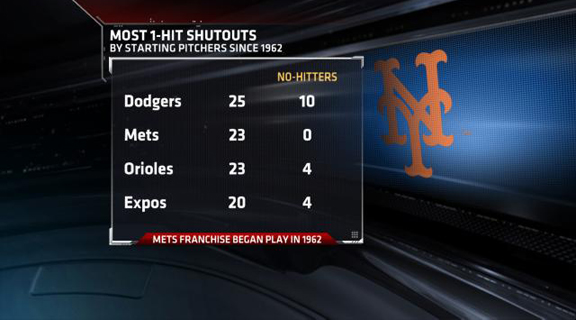 1-HIT WONDER: Jonathon Niese threw the 23rd one-hitter in Mets franchise history. However, the Mets are still one of three teams who have NEVER thrown a no-hitter. Only the Dodgers have more one-hitters since the Mets began play in 1962. (The other two teams who have not thrown a no-hitter are the Padres and Rays.)
Game Recap | Box Score | Highlight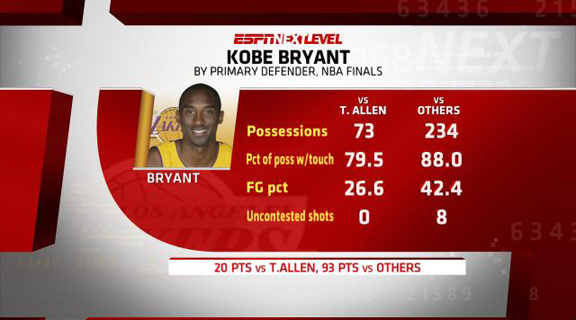 KOBE'S KRYPTONITE: We go next level to show you how Kobe Bryant has struggled when guarded by Tony Allen this series. Allen's defense against Kobe has been strong away from the ball. Allen has limited Kobe's touches. When Bryant has gotten shots off, Allen has gotten a hand in his face, contesting all 19 shots attempted against him.
Game Recap | Box Score | Highlight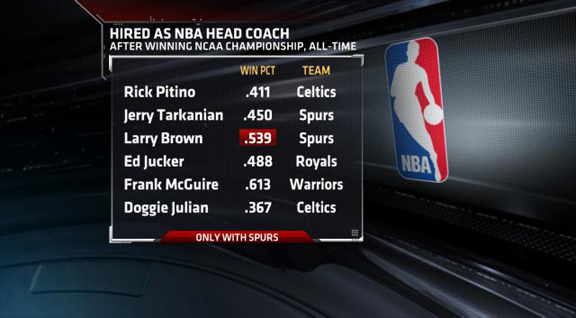 WAITING GAME: If Tom Izzo takes the head job in Cleveland, he'd be just the seventh man to take over an NBA team after winning -at one point- an NCAA championship. Of the previous six, only Larry Brown has gone on to win an NBA title -- and it took him more than 15 years before winning that title with the Pistons.