June 11, 2010 5:14 PM ET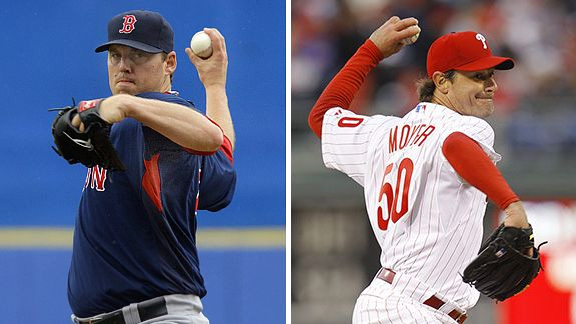 Getty Images, AP Photo/US Presswire, AP Photo

Philadelphia Phillies
(31-27)
at
Boston Red Sox
(35-27)
7:10 PM ET -- Fenway Park, Boston, Massachusetts
Starting Pitchers

Philadelphia:
Jamie Moyer
(6-5, 3.98 ERA)
Boston:
John Lackey
(6-3, 4.72 ERA)
Jamie Moyer is scheduled to pitch tonight's opening game of the Phillies' three-game series against the Red Sox at Fenway. This bodes well for Red Sox fans. Moyer has posted a 6.57 career ERA in 122 innings pitched at Fenway Park. That is the second highest career ERA for any pitcher with at least 100 innings pitched at Fenway, just ahead of Sidney Ponson (6.70). The Phillies have lost 7 of 10 and have been shut out 7 times this season, tied for the most in baseball. The Red Sox are 11-6 all-time at home against the Phillies, including a three-game sweep from June 23-26, 2006, in Philadelphia's last visit.
Game Preview:
PHI vs BOS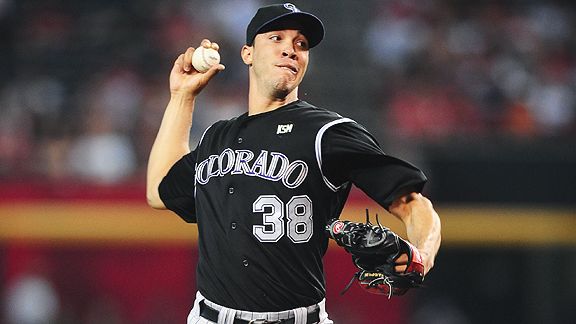 Mark J. Rebilas/US Presswire
Toronto Blue Jays
(34-27) at
Colorado Rockies
(30-30)
9:10 PM ET -- Coors Field, Denver, Colorado
Starting Pitchers

Toronto:
Ricky Romero
(5-2, 3.06 ERA)
Colorado:
Ubaldo Jimenez
(11-1, 0.93 ERA)
Ubaldo Jimenez takes the mound tonight as Colorado hosts Toronto. Jimenez is the first pitcher in MLB history to win 11 of his first 12 starts with an ERA under 1.00. Jimenez is the third pitcher in MLB history to allow two or fewer runs in each of his first 12 starts. His 0.93 ERA through 12 starts is the fourth-best in MLB history. Colorado is an NL-best 13-5 in interleague play since the start of 2009, but enters this series having lost three straight and six of their last eight. All three previous series between the Jays and Rockies -- two in Toronto and one at Denver in 2006 -- resulted in home sweeps.
Game Preview:
TOR vs COL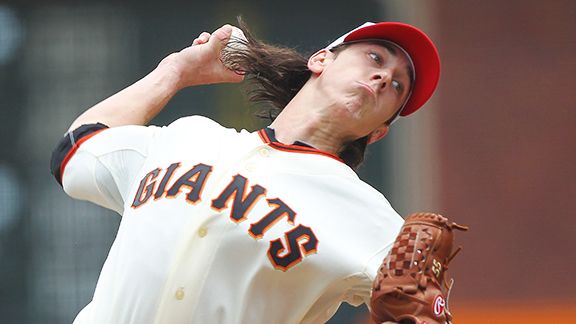 Jed Jacobsohn/Getty Images
It's a battle for bragging rights in California. Up north, "The Freak" takes the mound for the Giants with a 3-0 record and a 1.23 career ERA in four career starts against Oakland. Gio Gonzalez throws for the A's tonight and is 3-0 with a 2.97 ERA in his last five starts. Oakland's record at San Francisco is 19-18.
Meanwhile down south, the Freeway Series resumes. The visiting Angels have won two of their last three at Dodger Stadium. The Dodgers are playing well though, especially at home, and look to improve to 9-2 on their homestand with a fifth straight win tonight.
Game Preview:
OAK vs SAN
Game Preview:
LAA vs LAD
Note: The Elias Sports Bureau and ESPN Stats and Information group contributed to this report.
Tags: Philadelphia Phillies, Tim Lincecum, Colorado Rockies, Boston Red Sox, San Francisco Giants, Fenway Park, Jamie Moyer, Oakland Athletics, Toronto Blue Jays, John Lackey, Ubaldo Jimenez, Sidney Ponson, Gio Gonzalez