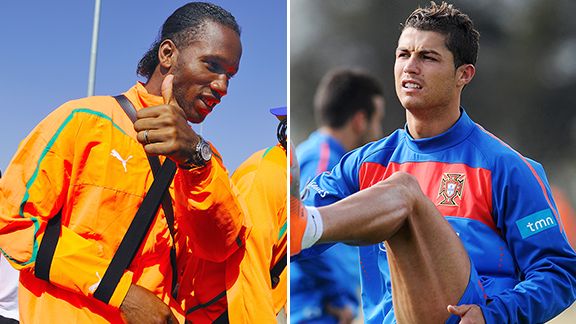 YOUR MORNING (VUVUZELA) BUZZ
Group F: New Zealand vs Slovakia (7:00 am ET on ESPN, ESPN3.com)
The Kiwis are the lowest-rated World Cup qualifier in ESPN's Soccer Power Index, coming in at 92nd - one slot higher than Al-ba-ni-a ("...You border on the Adriatic..."). Meanwhile, an independent Slovakia is making its first World Cup appearance after making eight as a part of two-time runners-up Czechoslovakia.
Group G: Ivory Coast vs Portugal (9:30 am ET on ESPN, ESPN3.com)
It's the first clash in the Group of Death. Ivory Coast (and Chelsea) star striker Didier Drogba is the 2009 African Footballer of the Year, but he broke his arm two weeks ago. FIFA has now approved his cast, and he might yet play this morning. (You can't use your arms in football anyway.) Portugal (and Real Madrid) star striker Cristiano Ronaldo is the 2008 World Player of the Year, but he's only scored once for his country since July of 2008.
Group G: Brazil vs North Korea (2:00 ET on ESPN, ESPN3.com)
It's still the Group of Death, especially for North Korea, and it's probably the biggest mismatch (on paper) of the entire tournament. Brazil are the five-time champions who have never missed any of the 19 World Cups. North Korea are the 105th-ranked nation (out of 208) in the world by FIFA who have missed every World Cup since 1966. Which might explain their interesting training methods ahead of their opener...
Meanwhile, SportsCenter begins at 9:00 am ET on ESPN2 with complete coverage throughout the morning.
World Cup on ESPN3.com | North Korea, um, train for Brazil match | Coach sings "Albania"
More from The Rundown, including the matchup for the ages in St. Louis, and why Kobe might not be the Kloser he thinks he is, after the jump.
5,000/.330+
When the Mariners played the Cardinals last night, it was the first big league game in 68 years to feature two players (call them Ichiro Suzuki and Albert Pujols) who at that point had at least 5,000 career at-bats and a career batting average of .330 or higher. That hadn't happened since in 1942, when future Hall-of-Famers Joe Medwick (Dodgers) and Paul Waner (Braves) went against each other at Ebbets Field. So how did Pujols and Ichiro commemorate the historic night? About as you might expect - one went 2-for-4, with two extra-base hits, and the other was 3-for-3 with three singles. Except that it was Ichiro who hit a home run and a double, and it was Pujols whose three hits were all singles. Who expected that?
34.4
Kobe kan kall himself "The Kloser," but he has faced elimination from the NBA Finals three times, and lost two of the three. And in the three games, he's only made 22 of his 64 shots from the floor. That's a 34.4 field goal percentage in Finals elimination games, and that's the third-lowest by any player with at least 50 shots in such games in the shot clock era. Only Bob Cousy (25.9) and Bill Sharman (31.4) were worse. But that didn't keep them out of the Hall of Fame.