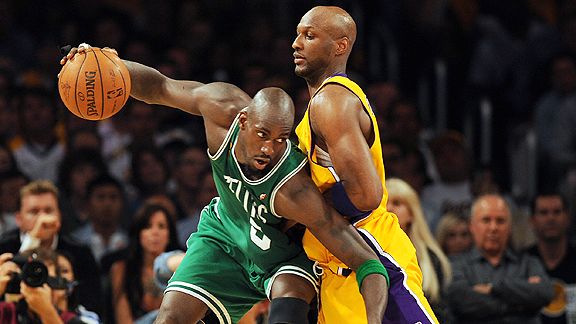 Gabriel Bouys/AFP/Getty Images
Boston Celtics at Los Angeles Lakers
9:00 PM ET on ABC and ESPN Radio -- STAPLES Center, Los Angeles, CA (Boston leads 3-2)
A new NBA champion could be crowned today if the Celtics can finish off the Lakers on the road in Game 6. Boston was able to stifle the Lakers attack in Game 5 to take a 3-2 series lead. Teams up 3-2 in NBA Finals have won 34 of 40 series. The Celtics are trying to become the 3rd team in NBA history to beat the teams with the three best records in the NBA on the way to the NBA title (1977 Blazers and 1995 Rockets). Celtics are 11-0 all-time when leading NBA Finals series 3-2 and 34-1 in all best-of-7 series with the one loss coming to the Magic in last year's Conference Semifinals.
There is some history on the Lakers side too though. The last time that the Lakers lost consecutive postseason home games was in the 2000 Conference Finals against the Blazers (a span of 77 games).The Lakers were eliminated from the playoffs on their home court only one time in the past 10 seasons. That happened in the 2003 Western Conference semis, when they were beaten in Game 6 by the Spurs 110-82 at the Staples Center. Look for rebounding to be the key to tonight's game. Boston was out-rebounded by L.A. in two games this series, losing both.
Celtics Rebound Difference - 2010 NBA Finals
Game 1-------(-11) L
Game 2-------(+5) W
Game 3-------(-8) L
Game 4-------(+7) W
Game 5-------(+1) W
Game Preview: BOS vs. LAL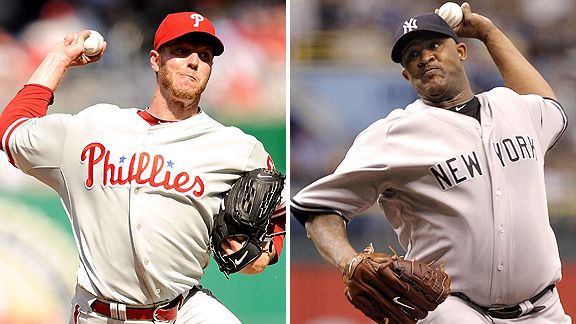 Getty Images, AP Photo
Philadelphia Phillies (32-29, 16-16 away) at New York Yankees (40-23, 22-7 home)
7:05 PM ET -- Yankee Stadium, New York, NY
Starting Pitchers
Philadelphia: Roy Halladay (8-4, 1.96 ERA)
New York: C.C. Sabathia (6-3, 4.01 ERA)
In a rematch of the 2009 World Series, the Yankees face former AL East nemesis Roy Halladay. Since 1994, Halladay's 2.84 ERA against the Yankees is not just the best among the 19 pitchers who have thrown 100 innings. It's the best by an overwhelming margin. Halladay has seven complete games in 35 starts against the Yankees since 1994. No other pitcher has more than four. Yankees ace C.C. Sabathia has struggled through a tough start to the season, but has found success at home. Sabathia is 3-0 at Yankee Stadium this season with a 2.91 ERA. The struggling Phillies offense could be just what he needs to break out of his slump. Since May 22, the Phillies have scored just 48 runs, the lowest total in MLB in that span.
Lowest ERA vs Yankees - Since 1994
Roy Halladay--------2.84
Pedro Martinez------3.20
David Wells---------3.47
>>Min. 100 IP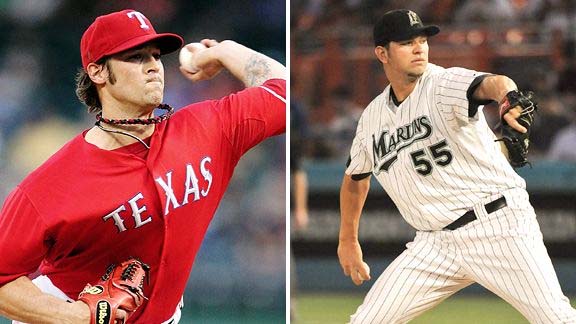 Getty Images and US Presswire
Texas Rangers (35-28, 12-17 away) at Florida Marlins (31-32, 17-15 home)
7:10 PM ET -- Sun Life Stadium, Miami, Florida
Starting Pitchers
Texas: C.J Wilson (5-3, 3.52 ERA)
Florida: Josh Johnson (7-2, 1.91 ERA)
The Marlins are looking to get back into the NL East race and tonight they send MLB's hottest pitcher to the mound. Josh Johnson is 4-1 with a 0.43 ERA over his last six starts for the Marlins. His only loss during that span was against Philadelphia on May 29, when Roy Halladay pitched a perfect game. The Rangers have had some success against aces this week though. They scored seven runs against Seattle's Felix Hernandez in a 7-1 victory last Tuesday night. In its last game, Texas managed four runs in six innings against emerging Milwaukee right-hander Yovani Gallardo, winning 7-2 on Sunday.
Game Preview: TEX vs. FLA