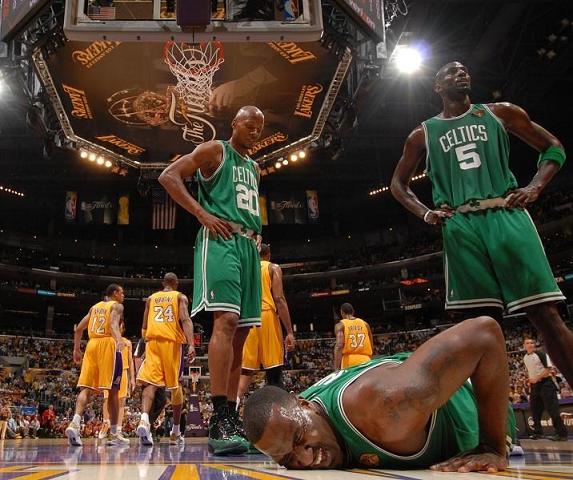 Andrew D. Bernstein/Getty Images
Perkins To Sit Game 7 With Torn Knee Ligaments
Celtics head coach Doc Rivers announced today that center Kendrick Perkins is out for game 7 of the NBA Finals. Rivers told a news conference that Perkins tore two ligaments in his right knee and added, "He's not gonna go." The Boston coach hasn't decided if he'll start Rasheed Wallace or Glen "Big Baby" Davis as a replacement. Perkins was hurt midway through the first quarter of Game 6 of the NBA Finals after grabbing an offensive rebound and getting fouled by the Lakers Andrew Bynum.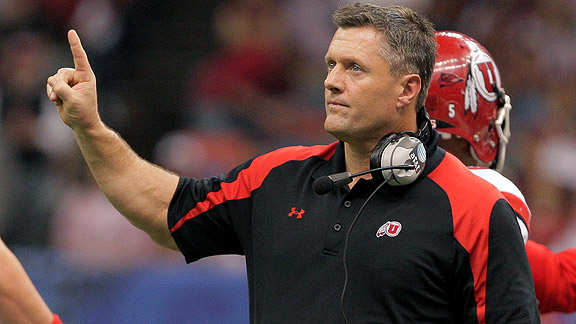 Derick Hingle/Icon SMI
Pac-10 Invites Utah; Source: Utes Will Accept
A source told ESPN that the University of Utah will join the Pac-10 as their 12th school. The school's board of trustees will meet Thursday to discuss the school's conference affiliation, followed by a press conference where they are expected to make the move official. Earlier in the week, Texas, Oklahoma, Texas A&M, Texas Tech and Oklahoma State recommitted to the Big 12 instead of hopping to the Pac-10. That left the Pac-10 in need of another member to reach the 12 required to hold a football championship game. Utah officials have long been frustrated about their inability to play for a national title while in the Mountain West. Utah had an undefeated season in 2008 but was not invited to the national title game.
UCLA Baseball Player To Miss CWS After Pile-Up Injury
Tyler Rahmatulla, a sophomore second baseman, will not be able to play in the College World Series after he broke his wrist Sunday during the team's celebration dog-pile after its Super Regional-clinching win over Cal State Fullerton. Rahmatulla was the Bruins' number 3 hitter this season. He batted .328 with 7 home runs and 45 RBI. None of his home runs were bigger than a 2-run blast he hit Saturday to stave off elimination when UCLA was down to its final out.