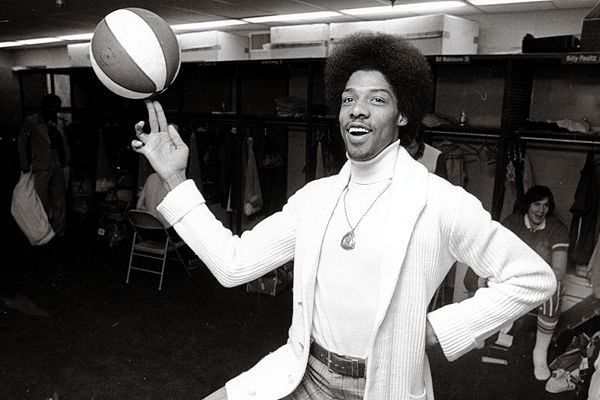 AP Photo
"For my next trick, I'll win an NBA championship."
June 17, 1976: The American Basketball Association had a good run. But it ended today, when the 9-year-old professional league merged with its more storied (albeit less flashy) rival, the NBA. The four strongest ABA teams - the New York Nets, Denver Nuggets, Indiana Pacers and San Antonio Spurs - joined the NBA. The other three ABA teams - the Kentucky Colonels, the Spirits of St. Louis and the Virginia Squires - folded.
The ABA, which was founded in 1967, was thought to be a more of a wild child league than the NBA. Teams played with a colorful red, white, and blue ball instead of the NBA's orange one. Play was more wide open and creative. And of course there was the matter of the 3-point shot, which the ABA used and the NBA did not (until after the merger in 1979-80, that is).
Julius Erving, aka Dr. J, was perhaps the league's most famous player and is considered by some to have been a major catalyst for the merger. He began his professional career with the Virginia Squires of the ABA in April of 1971 and was traded to the ABA's New York Nets three years later. After the merger, his rights were sold to Philadelphia, where he played for 11 years, leading the 76ers to an NBA title in 1983.
Perhaps the most interesting story to come out of the merger is that of Ozzie and Dan Silna, owners of the Spirits of St. Louis, who to this day get one-seventh of the annual TV revenue from each of the four ABA teams entering the NBA thanks to a deal they made during the merger. It might not sound like a lot, but it's an arrangement that has made the brothers well over $100 million, and counting. The deal is forever - as long as there's an NBA, the Silnas (and their kids and their kids kids) get paid.