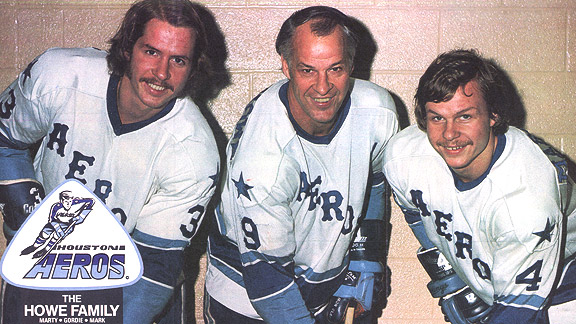 Bruce Bennett Studios/Getty Images
The Charlestown Chiefs' Hanson Brothers had nothing on the Howe Family.
Happy Father's Day! And while we're sure you've enjoying your fill of coffee mugs, Hallmark cards and neck ties, we thought that it was important that you knew there was a whole slew of extreme sporting activities for both Dad and the kids to enjoy.
Historically, some of the world's most dangerous sports have also seen some of the most talented father/son duos (Dale Earnhardt Senior and Junior, "Mr. Hockey" Gordie Howe and his two sons, Mark and Marty) although perhaps without the panache of Ken Griffey Senior and Junior teeing off for back to back home runs at the Kingdome.
And just this Friday, Michael Bradley became the first coach's son to ever score in the World Cup, although it is somewhat of an American tradition for the soccer coach's son to be on the team. While Bradley may have been the first son to score on soccer's grandest stage, he's surely not the first to be at practice 30 minutes early, running extra drills with the coach.
For dads looking to mimic famous sports father and sons, we'd like to recommend the following activities. They might not have the opportunity for casual conversation that a game of catch or fly fishing has but rest assured that what they lack in small talk they more than make up for in violent clashes.
You could sign Dad up for mixed martial arts training at any of the MMA's schools across the country. Nothing says "I love you" more than a roundhouse kick to the head. For the more cerebral fathers out there, might we also suggest chess boxing?
Or, for your more mechanically-inclined father, what could be better than the NASCAR Racing Experience? As the website notes, "No instructor rides with you!" The only better way to spend Father's Day at the track is to spend it inside a real stock car - on the track. No word on if you can choose between Ford or Chevy, but you can drive an actual car raced by Jimmie Johnson or Jeff Gordon.
For the dads of the eighties, it's time to hit the skate park. International "Go Skateboarding Day" is tomorrow. Or if Gen-X dad would just as soon hit the couch than the park, just rent a copy of Gleaming the Cube. Because sometimes "getting even means risking it all."
And of course, what would a Father's Day post be without mountain unicycling? Just make sure that Dad's health care is up to date.