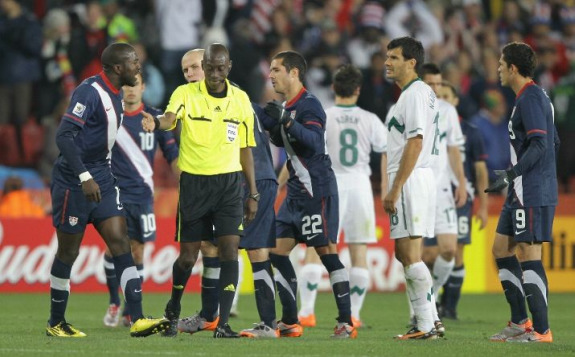 Ezra Shaw/Getty Images
U.S. Soccer Focused on Algeria, not Phantom Call
The Americans aren't dwelling on the goal that should have been, they're focused on beating Algeria and advancing to the 2nd round of the 2010 FIFA World Cup. One day after referee Koman Coulibaly called off a U.S. goal in the 85th minute head coach Bob Bradley said there's nothing his team can do and that it's time to move on.
"We're all accustomed to the fact that if it's an NFL playoff game and there's a call that's in question, there will be a statement by the league from the referees, but FIFA operates differently," Bradley said. "There are some aspects of it that are not made 100% clear. We all have friends and family who ask us the same questions that most of you ask, and you end up saying that's just how it is sometimes, then you move on and you get ready for the next game."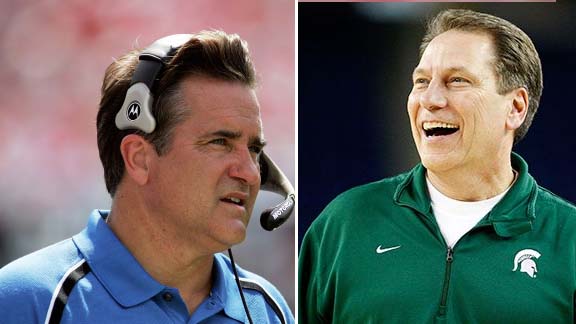 Doug Benc/Getty Images and Streeter Lecka/Getty Images
Mariucci Consulted on Izzo Decision
Tom Izzo got some advice about his future from another former head coach in the state of Michigan, Steve Mariucci. Mariucci said he consulted Izzo on the decision to either join the NBA as head coach of the Cleveland Cavaliers, or remain at Michigan State where he had built the team into a perennial contender.
"If you stay at State, that's your comfort zone," Mariucci told Izzo. "Either way, it's good. Just make the call. Those are two good opportunities."
Lakers, Celtics Finals Draws Huge Ratings
The 2010 NBA Finals Game 7 matchup between the Lakers and the Celtics drew the highest ratings of any Finals game since 1998. It earned an 18.2 overnight rating (18.8 million viewers), beating the only other Game 7 during that stretch, Spurs vs. Pistons in 2005, by 32%. It also became the highest-rated finals game ever televised on ABC. Only Michael Jordan's final game with the Bulls, Game 7 in 1998, drew a higher Finals rating.