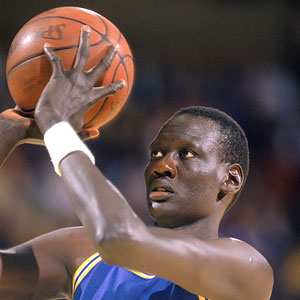 Ken Levine/Getty Image
Amazingly, Manute Bol's affect on others spread much wider than his wingspan.
Before Gheorghe Muresan, Shawn Bradley and Yao Ming lumbered across the great hardcourts of the NBA, Manute Bol was the standard-bearer for giant among giants. Sadly, the former humanitarian and defensive specialist died yesterday after seeking treatment for kidney and skin diseases. While his career 3.3 blocks-per-game average was impressive, Bol was one of the truly unique players in all of sports. Here are but a few examples of why he's in our own Hall of Fame:
1. He never heard of basketball, much less the NBA, until he was 18. You try picking up the game for the first time at an age when many guys are preparing to go pro. The fact that he was able to remain in the league for ten years is an inspiration to late-bloomers everywhere.
2. He became the tallest deep threat in league history.
Besides Jordan's fade-away jumper, has there been a more unstoppable shot than a three-pointer from the hands of a 7'7" center? Grouse about his unorthodox over-the-head technique, the man really knew how to connect from downtown.
3. He possessed a lightning buzzer hand.
Manute knew how to work the game show technology, evidence by this footage from the 76ers Family Feud.
4. He gave away ALL his money to charity.
How many of today's players would donate nearly every penny they had to a cause greater than themselves? Bol's generosity continued well after his basketball career was over, including work with the Sudan Sunrise organization which continues to provide humanitarian aid to his homeland to Bol's native Darfur region.
5. He would do anything for charity.
And we mean just about anything. Bol would don hockey skates, squeeze into jockey's uniform, even box Refrigerator Perry if it meant funds for his charity work. Are you not entertained? Thankfully:
6. He really knew how to take a joke.
And boy, was Manute the butt of many a prank, especially this classic involving Charles Barkley, Rick Mahorn and a fancy dining spread.
Fare well, Manute Bol. You were truly one of the great ones.