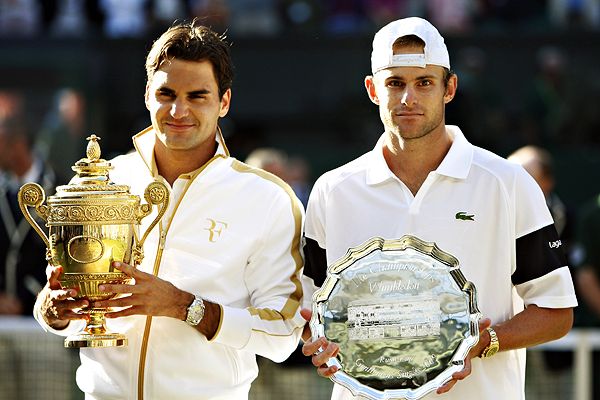 AP Photo/Alastair Grant
What's in store for Andy Roddick at this year's Wimbledon: A Men's Singles Championship or more kitchenware?
Wimbledon didn't officially start until today, but Andy Roddick has been fired up since the US Men's controversial tie to Slovenia on Friday. Roddick said of the match, "I understand the rules of football so well that apparently when two Slovenian guys mug an American guy the American guy gets called for a foul." Are you listening Blaz Kavcic (or any other unranked Slovenian tennis player)? That's bulletin board material! Normally we don't condone this type of behavior, but the American's could use a little spark at the All England Club. Since 2002, no American besides Roddick has reached the quarterfinals at Wimbledon.
Roddick enters Wimbledon as the No. 5 seed, but after last year's epic 16-14 fifth-set loss to Roger Federer in the finals, he looks to be the sentimental favorite this time around. "I know we've got Andy Murray, but I'd like to see you win Wimbledon this year, I really would, because I think you so deserved it last year," said British late-night talk show host Jonathan Ross. Of course, top seeds Rafael Nadal and Roger Federer are still the favorites to take home the top prize and leave Roddick with the runner's up plate, but two of the nine ESPN experts did select Roddick to become the first American since Pete Sampras in 2000 to win the Gentleman's Singles Championship at Wimbledon.
If you weren't before, you're now up to date on all the need-to-know Roddick info. But as you know, Wimbledon is much bigger than A-Rodd. In an effort to get you up to speed, we put together a little Wimbledon quiz for you. As usual, the answers are at the bottom of the page. Good luck and no cheating!
1. How did Strawberries become synonymous with Wimbledon?
a) The Royal family used to own a strawberry farm
b) Strawberries and cream are red and white just like England's flag
c) It was the fashionable thing to eat because strawberries were only available during the Summer in the late 1800's
d) Players began eating them during matches as a source of Vitamin C
2. Who is the only men's No. 1 seed to be eliminated in round one of Wimbledon (Open Era only)?
a) Jim Courier
b) Lleyton Hewitt
c) Boris Becker
d) Andre Agassi
3. As for the women, three times a No. 1 seed has lost in the first round. Steffi Graf did it once and another woman did it twice. Which No. 1 seed lost the other two times?
a) Venus Williams
b) Martina Hingis
c) Monica Seles
d) Lindsay Davenport
4. Only once in men's history has a player won the Wimbledon title without dropping a set (21-0). Which player accomplished this feat?
a) Roger Federer
b) Pete Sampras
c) Bjorn Borg
d) John McEnroe
5. Venus Williams has won five Wimbledon Ladies' Singles Championships but is now 30 year's old. Who is the oldest woman to ever win a Wimbledon Ladies' Singles Championship?
a) Steffi Graf
b) Jana Novotna
c) Monica Seles
d) Martina Navratilova
6. Who was the lowest ranked player ever to win the Gentleman's Singles Championship at Wimbledon. Hint: He was ranked 125th.
a) Boris Becker
b) Jimmy Connors
c) Richard Krajicek
d) Goran Ivanisevic
7. Since 2000, only two women have won the Wimbledon Ladies' Singles Championship not named Serena or Venus. Who are these women?
a) Lindsay Davenport and Justine Henin
b) Amélie Mauresmo and Maria Sharapova
c) Maria Sharapova and Justine Henin
d) Amélie Mauresmo and Lindsay Davenport
8. Roger Federer has a career record of 92-13 on grass and only two active players have beaten him at Wimbledon. Who are they?
a) Rafael Nadal and Mario Ancic
b) Rafael Nadal and Juan Martín del Potro
c) Lleyton Hewitt and Juan Martín del Potro
d) Novak Djokovic and Rafael Nadal
9. What does SportsCenter.com miss most from the world of tennis?
c) Venus Williams' French Open outfit
10. Other than Rafael Nadal (14-7), only one other active player has a winning record against Roger Federer. Which player is it? *Minimum two matches
a) Marin Čilić
b) Novak Djokovic
c) Martín del Potro
d) Andy Murray
Answer Key:
1. It was the fashionable thing to eat because they were only available during the Summer in the 1800's
2. Lleyton Hewitt
3. Martina Hingis
4. Bjorn Borg
5. Martina Navratilova (34)
6. Goran Ivanisevic
7. Amélie Mauresmo and Maria Sharapova
8. Rafael Nadal and Mario Ancic
9. Andre Agassi's bike shorts
10. Andy Murray (6-5)