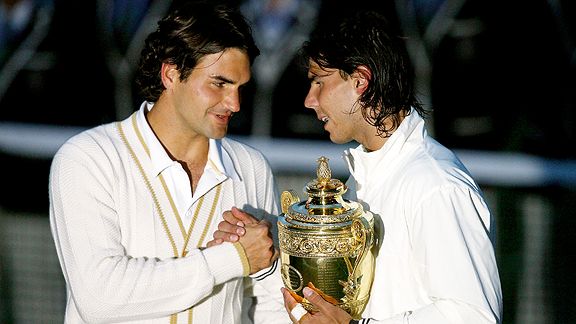 STRAWBERRIES AND SCREAM

World No. 1 Rafael Nadal returns to Wimbledon as the No. 2 seed after missing out on last year's Championships (thanks a lot, knee tendinitis). He takes on Kei Nishikori and takes his first step toward repeating the French Open-Wimbledon double he pulled off two years ago. But not before the World No. 1 (and No. 1 seed) on the ladies side, Serena Williams, takes on World No. 147 Michelle Larcher de Brito on Centre Court. Serena is known for never losing a first round match at a Slam (see: 42-0). Larcher de Brito is known for screaming.
More of what's happening At This Hour, including the trade rumors swirling around one of the best point guards in the NBA, and where Jeremy Masoli could end up next, after the jump.
PAUL ON THE BLOCK?

The New York Daily News reports that Nets GM Rod Thorn offered Devin Harris and the No. 3 overall pick in Thursday's draft to the Hornets for Chris Paul. Meanwhile, the Memphis Commercial Appeal reports that the Grizzlies strongly denied offering up O.J. Mayo to the Hornets for Paul. These things happen when you want to be "Champions" like Ron Artest.

New York Daily News | Memphis Commercial Appeal | "Champions" by Ron Artest
MASOLI TO THE NFL?

Three weeks after he became the former Oregon quarterback, NFL.com reports that Jeremiah Masoli should be available to teams in the NFL's Supplemental Draft on July 15th. He was kicked off of the Oregon team after his second run-in with the law in six months.

Read | Read More