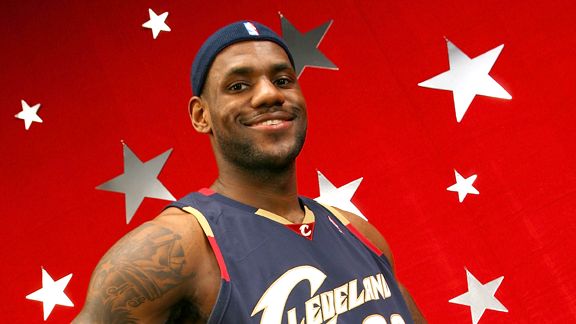 Jesse D. Garrabrant/Getty Images
"Ladies and Gentlemen, now batting for the Lake Erie Crushers, LeBron James."
LeBron James has a lot to think about once his free agency kicks in. Whether to sign with Chicago, New York, New Jersey, Los Angeles, Cleveland or ... the Cleveland suburbs.
The Lake Erie Crushers of the independent Frontier League (yes, that Frontier League) has offered the maximum salary allowed ($1,600/month) to LeBron James, hopefully keeping him in Ohio for years to come. To play baseball. Hey, at least one team has put their money where their mouth is.
It remains to be seen whether or not the promotion is a success - LeBron will have to at least show up for the game in order to enter the pantheon of ridiculous minor league baseball promotions. But we're hoping LeBron will make his presence known, much like his appearance at "LeBron James Appreciation Day," (if only for an inning or two) because it might just make the Top 5 Ridiculous Promotions of all time.
Of course, the majors have seen their share, almost always from the mind of Bill Veeck. While running the St. Louis Browns, he famously had the smallest player ever in the majors pinch hit and also had the audience manage the team for a day (in one of the most fan-friendly professional sports promotions of all time). Maybe the Browns (or Baltimore Orioles rather), could have a day where LeBron manages the game. After all, they still have an opening.
And his son, Mike Veeck, is up to much of the same in the minors. While serving as General Manager of the Charleston RiverDogs he set a record for lowest game attendance (zero) and just last year the RiverDogs celebrated "My Hot Dog is Green Night." We don't even want to know. This season, maybe the RiverDogs could just go for highest attendance of fans named LeBron.
As for other absurd promotions, the Altoona Curve's "Awful Night" has to rank right up there. David Hasselhoff videos! Squares of bubble wrap! If LeBron showed up for this event, it'd be hard to ask him not to sign autographs. Maybe he can sign, but sign someone else's name? That'd sour up the lemonade pretty quickly, right?
And lest we forget LeBron's actual sport, basketball. Last season the Sixers offered the "Birthday of Hip-Hop" promotion. LeBron could sign with the Nets, cut a single with Jay-Z and, oh wait. Never mind: Hip-Hop's a mascot.
Even if LeBron shockingly decides not to sign with Lake Erie, he should at least show up for the game. Everyone named LeBron gets in for free.