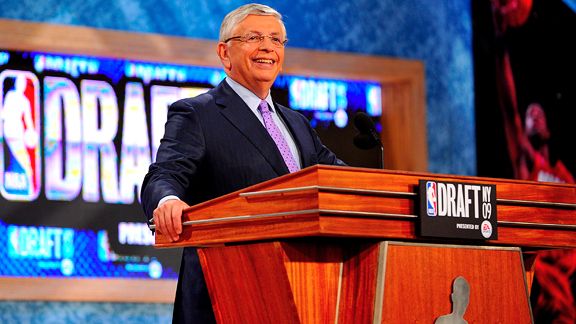 David Dow/NBAE/Getty Images
7:00 pm-midnight ET -- Where: Madison Square Garden, New York -- Rounds: Two rounds -- ESPN
2010 NBA DRAFT -- Top 5 Things to Know
1. The Washington Wizards hold the 1st pick in the 2010 Draft. This is the 2nd time in the common draft era (since 1966) the Wizards will select No. 1 overall. In 2001, Washington selected Kwame Brown.
2. Over the last nine seasons, each team that picked first in the draft increased its win total by at least eight from the season before. Those nine teams had an average increase of 13.7 wins.
3. Minnesota has 5 draft picks, the most among all teams. Miami and Oklahoma City each have 4 picks. Cleveland, Charlotte and Denver are the only teams without a draft pick.
4. There were originally 103 players - 80 from U.S. colleges and 23 international players - who filed as early-entry candidates. After second thoughts only 55 of those players stuck with their decision to remain in the draft. 30 of the college athletes and 18 of the international players decided against making the leap into the unknown waters of the NBA.
5. If John Wall is selected No. 1 overall, he'll be the 2nd player drafted with the top selection to play for John Calipari in the last 3 years and the 3rd straight Calipari protégé to be selected in the top-5 over this span (Tyreke Evans at No. 4 in 2009; Derrick Rose at No. 1 in 2008).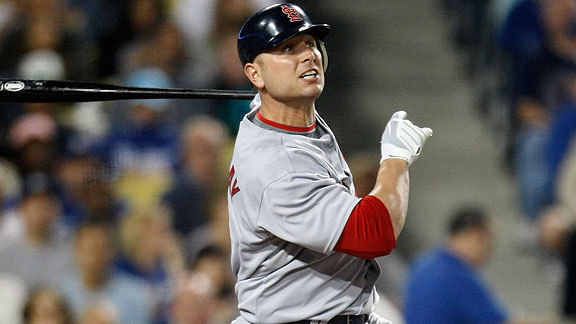 Jeff Gross/Getty Images
St. Louis Cardinals (40-31) at Toronto Blue Jays (38-34)
7:07 PM ET, June 24, 2010 -- Rogers Centre, Toronto, Ontario
Starting Pitchers
St. Louis: Adam Wainwright (10-4, 2.23 ERA)
Toronto: Brandon Morrow (4-5, 4.97 ERA)
Adam Wainwright looks to lead the NL Central-leading St. Louis Cardinals to a three-game sweep of the Blue Jays tonight in Toronto. Wainwright leads St. Louis in wins and ERA and has been dominant at home, winning all seven starts with a 1.67 ERA. The right-hander has struggled on the road, where he's 3-4 with a 2.78 ERA in eight outings. Wainwright is likely to get help from Matt Holliday, who has had multiple hits and an RBI in 5 straight games. The Blue Jays will give the ball to Brandon Morrow, who hasn't had much help from his friends. The right-hander has a 1.89 ERA over his last three outings, but is without a win after receiving four total runs of support in that span.
Game Preview: STL vs TOR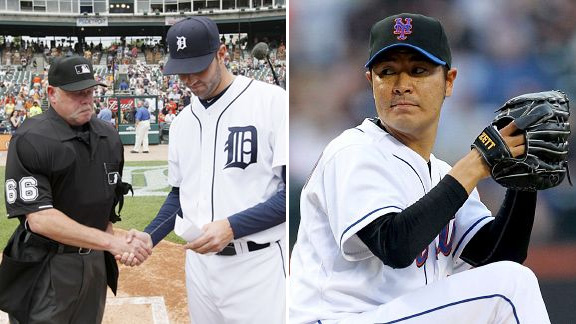 AP/Photo/Al Bello/Getty Images
Detroit Tigers (38-32) at New York Mets (41-30)
7:10 PM ET, June 24, 2010 -- Citi Field, New York, NY
Starting Pitchers
Detroit: Armando Galarraga (2-1, 3.32 ERA)
New York: Hisanori Takahashi (6-2, 3.13 ERA)
The Mets are an NL-best 11-3 during interleague play, one win shy of the franchise high of 12, set in 1999. New York has won 10 of 12 and 14 of 17 overall. Hisanori Takahashi takes the ball for the Mets. Takahashi is 3-1 with a 3.15 ERA in six starts in place of the injured John Maine. The Tigers send Armando Galarraga to the hill with a 4.24 ERA in 3 starts since his near-miss at a perfect game. Detroit is 0-5 vs the Mets in NY.
Game Preview: DET vs NYM
Note: The Elias Sports Bureau and ESPN Stats and Information group contributed to this report.