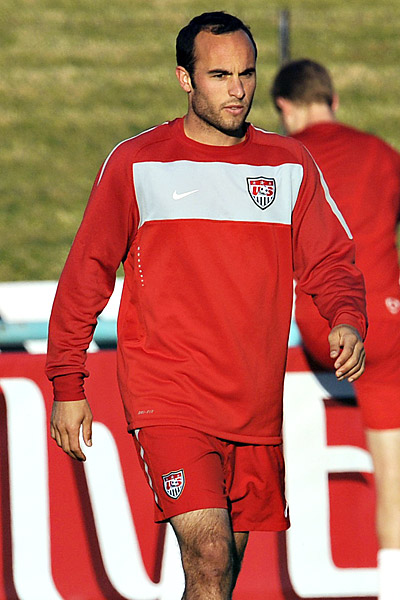 Timothy A. Clary/AFP/Getty Image
"Am I the only person named Landon on this planet?"
This weekend has a ton of pressure on its shoulders to perform after the last few days of sports. We saw arguably the greatest goal in U.S. soccer history, the longest tennis match ever played and an amazing fashion statement made by Wesley Johnson during last night's NBA Draft. Can this weekend live up to the hype? We're about to find out. Here's what's on tap:
Phillies @ Blue Jays: Roy Halladay's Return
Friday at 7:05 (ET)
After spending his first 12 seasons with Toronto, Roy Halladay will make his first career start against the Blue Jays. During his stint in Canada, Halladay was a six-time All-Star and won the 2003 AL Cy Young Award. He also amassed the second most wins (148) and second most strikeouts (1,495) in Blue Jays history. In other words, this guy deserves more than a standing O from Toronto fans. Show your support for Doc Halladay by dressing up as Doc Holliday. These amazing costume patterns will run you just $5.59 and will work as a Halloween outfit as well come October.
Yankees @ Dodgers: Joe Torre Faces His Old Team
Friday at 10:10 (ET), Saturday at 7:10 (ET), Sunday at 8:00 (ET)
The New York Yankees head to Dodgertown to take on Los Angeles, as well as a certain manager who just happened to hold court in the Yankee clubhouse for a few seasons. Since Joe Torre left New York, the Yankees have been shut out of the playoffs, opened a new stadium, torn down a cathedral and raised another championship flag. The Dodgers, meanwhile, still play in a refurbished Dodgers Stadium and have yet to win new rings since their last title in '88. To catch up on how Torre made it from the Big Apple to LaLa Land, you can check out Tom Verducci's The Yankee Years. Or, for the conflicted fan, you can stitch together a Yankee jersey and a Dodger jersey. Hey, it worked for Manny.
Wimbledon
Saturday Coverage Starts Saturday at 7:00 a.m. (ET) on ESPN, ESPN3.com
Who knows if we'll ever see another match like the Isner and Mahut marathon that ended Thursday. It lasted a record 11 hours and five minutes with the fifth set taking a whopping 8 hours and 11 minutes to complete. All we know is if something like this happens again this weekend, you'll want to be in comfy clothes. These lightweight Andre Agassi tennis shorts are perfect for watching tennis matches that last more than one day. Plus, neon yellow is making a comeback!
2010 FIFA World Cup: USA vs. Ghana
Saturday at 2:30 (ET) on ABC, MobileTV and ESPN Radio
Ghana is no easy match for Team USA They're the only African nation left (major home-field advantage) and it was Ghana that beat the U.S. 2-1 in the group-stage finale in the 2006 World Cup which prevented the Americans from advancing. We know you've already got the photo of Landon Donovan's game-winning goal against Algeria hanging over your bed, and that's cool, but a Landon Donovan signed baseball would be a much better investment. They're can't be more than 10 or 15 of these floating around and if he scores another game-winner this weekend, you can likely resell it for 400% profit.
2010 FIFA World Cup: Germany vs. England
Sunday at 10 a.m. (ET) on ESPN, ESPN3.com and MobileTV
Germany has advanced from the Group Stage for the 15th straight World Cup, the longest active streak by any nation. Unfortunately, the German's came in first place in Group D and they'll have to face England, the runner-up from Group C. Coincidentally, in 1966 when England won its only World Cup title they defeated Germany in the finals. Do yourself a favor -- wake up a few hours early, and watch the 1966 World Cup Final DVD.