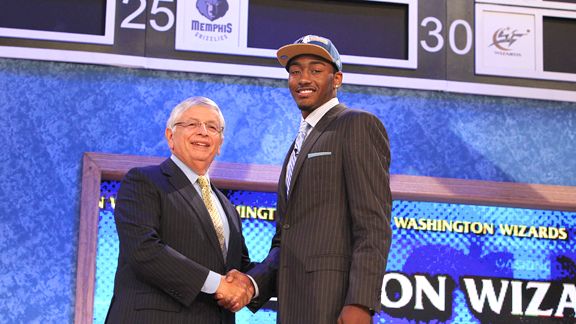 Nathaniel S. Butler/Getty Images
Wall, Turner Go 1-2 to Start NBA Draft
Kentucky's John Wall and Ohio State's Evan Turner were selected #1 and #2 respectively, headlining the 2010 NBA Draft class. Georgia Tech's Derrick Favors, Syracuse's Wesley Johnson and Kentucky's DeMarcus Cousins rounded out the top five picks. Five Kentucky Wildcats were selected in the first round, the most ever by one school.
Isner Defeats Mahut in Epic 11-Hour Match
11 hours and 5 minutes after the match started, John Isner defeated Nicolas Mahut 70-68 in the final set at Wimbledon. Thursday's match began at 59-59 in the fifth set after darkness suspended play each of the last two days. Isner's 6-4, 3-6, 6-7 (7), 7-6 (3), 70-68 victory over Mahut is the longest tennis match in history.
Sources: Bulls Ready to Clear Cap Space Via Trade
The Chicago Bulls are preparing for a strong run at free agency, according to ESPN's Ric Bucher. The Bulls are reportedly ready to move Kirk Hinrich and the 17th pick to the Washington Wizards, freeing up enough cap space to pursue two maximum-salary players in this summer's free-agent market, sources with knowledge of the Bulls' plans said Thursday.
Source: Celtics' Wallace to Walk Away
Boston Celtics forward Rasheed Wallace is done with the NBA, a league source said Thursday. Wallace will reportedly retire this summer, walking away from the final two years and $13 million remaining on his contract. Wallace's 15-year-career included an NBA championship with the Detroit Pistons in 2004.
Favre Would Love to Beat the Saints
Brett Favre wants another shot at the New Orleans Saints. In an interview with the Biloxi Sun Herald, Favre said,''I would love to go beat the Saints. I know I can still play at a high level. Last year was a great year, but it could have been better (winning NFC Championship).'' Favre also said his ankle is healing on schedule.
President Obama Congratulates Team USA
President Obama, like former President Clinton, congratulated team USA for its win Wednesday against Algeria, according to ESPN's Jeremy Schaap. Obama called the squad Thursday checking on the health of the players, telling them he heard the West Wing erupt when Landon Donovan score the game winner. Up next for the Americans, Ghana on Saturday (2:30pm ET, ABC, MobileTV).
Surgery on Kobe's Finger Likely
Kobe Bryant is contemplating surgery to repair the index finger on his shooting hand. Bryant played the majority of last season with the injured finger taped up in a splint due to an avulsion fracture. Bryant says that he will likely have surgery when he returns from watching the 2010 FIFA World Cup in South Africa.
Defending Champs Italy Eliminated
Defending champion Italy was eliminated Thursday from the 2010 FIFA World Cup with a humbling 3-2 loss to Slovakia. For the third consecutive game, the Azzurri allowed an early goal and this time they never recovered. Slovakia moves on to the round of 16.
Steve Smith: Flag Football Injury a Freak Accident:
Carolina Panthers receiver Steve Smith says he was "just having fun" and it was a "freak accident" when broke his left arm playing flag football. Smith said despite having to miss training camp, he will be ready by the start of the regular season.
Seantrel Henderson didn't show up last week for orientation at the University of Southern California. As a result, Lane Kiffin and several assistants have flown to Minnesota to be sure that the 6-foot-8, 330-pound left tackle is still committed. Neither Seantrel nor his father have had any comment to the media amid reports that Miami and Ohio State could be back in the hunt.