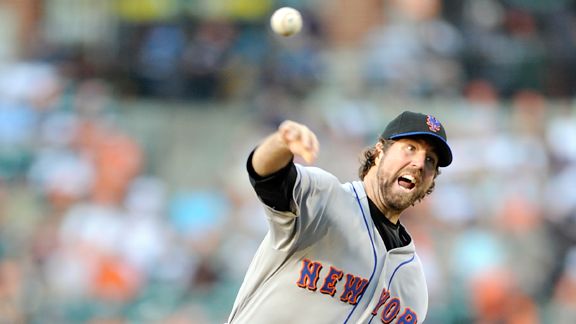 Greg Fiume/Getty Images
It takes a lot of strength to throw a pitch this soft.
There are few pitches in baseball as hard to master, or hit, as the knuckleball. And with R.A. Dickey's continued success on the mound for the Mets (he pitched 7 innings and without giving up an earned run today against the Nationals), and Tim Wakefield riding into the sunset beneath an old Red Sox cap, MLB currently has two active knuckleball pitchers for the first time in quite some time. And with Japan's "Knuckleball Princess" plying her trade in the independent Golden League, who knows? It could be just a few short years before three knuckleballers are in the majors.
While Dickey becomes the latest member of a very exclusive club, there was a time when the knuckleball was as common at ballparks as organ music or hand-operated scoreboards. And although the knuckleball may soon follow the demise of wooden bleachers and foul territory bullpens, mastery of the pitch does come with several advantages.
First, instant name recognition. Sure, Dickey is off to a fantastic start, but he probably wouldn't be the subject of so much interest if he threw a low 90s fastball along with an off-speed pitch or two. Red Sox fans would still adore Wakefield but most pitchers with a career record of 191-168 and a career ERA of 4.36 probably wouldn't be so well known outside of their home field. And, of course, who could forget Hoyt Wilhelm? Er, wait ... .
Which brings us to our second point. Wilhelm, who hurled the knuckleball for 21 seasons, was the first relief pitcher elected to the Hall of Fame. Of the five relievers in the Hall (Wilhelm, Phil Niekro, Dennis Eckersley, Bruce Sutter and Goose Gossage) two are knuckleballers (Wilhelm and Niekro). For all you sabermetricians out there, that's 40% of all relief pitchers in the Hall of Fame. Impressive numbers.
Third, as most or our readers are already well aware, Wilhelm has one of the more interesting Hall of Fame pedigrees, having pitched for the New York Giants, St. Louis Cardinals, Cleveland Indians, Baltimore Orioles, Chicago White Sox, California Angels, Atlanta Braves, Chicago Cubs, Atlanta Braves (again) and Los Angeles Dodgers. Which is to say, the knuckleball's easy delivery lets pitchers hurl forever. We're looking forward to Lance Niekro's (Phil's nephew) retirement ceremony sometime in the summer of 2025, at a ballpark to be named later.
That might not be the same case for catchers, however. As unpredictable as the knuckleball is to hit, it's just as tricky to catch. It may extend the life of pitchers, but it can only shorten catchers' careers through so many heart attacks. Dickey's battery mates even share the same worn out glove, passed from teammate to teammate. And the unpredictable qualities of the knuckleball also make for some fun stats - Wakefield is one of the few pitchers to have struck out four batters in a single inning. And thanks to such weird stats chances are, if there's a between-innings trivia question at your next ballgame, the answer may very well be a knuckleballer. Maybe even R.A. Dickey.