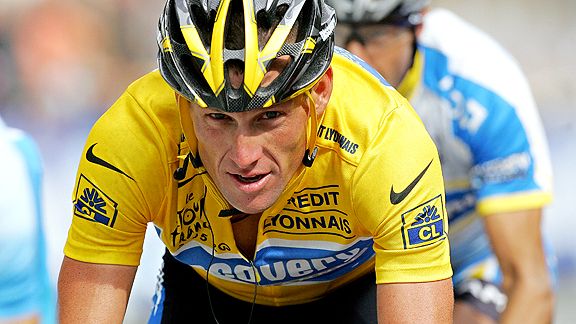 Javier Soriano/AFP/Getty Images
Lance Armstrong's Last Tour de France
American cyclist Lance Armstrong announced via his twitter account (@lancearmstrong) that this Tour de France will be his last. Armstrong has won the race a record-setting seven times but finished 3rd in last year's Tour. The 2010 Tour de France starts Saturday.
Red Sox 2B Dustin Pedroia was evaluated Monday and his broken foot was confirmed by Dr. Thomas Gill. Pedroia was placed on the 15-day DL but will likely miss six weeks with the injury. Catcher Victor Martinez was also examined. He broke the tip of his left thumb, and the Sox haven't decided whether to place him on the DL too. Starter Clay Buchholz has a left hamstring strain but will only miss one start.
Brazil Cruises Past Chile, 3-0
Perennial soccer super-power Brazil used three goals from three different scorers to easily beat Chile 3-0. Defender Juan put Brazil on the board first with a nice header in the 34th minute. Just four minutes later, Luis Fabiano scored his 3rd goal of the 2010 FIFA World Cup. Robinho added an insurance goal early in the 2nd half to put the game out of reach for Chile. The Brazilians will face a very tough Netherlands squad on Friday at 10:00 am ET on ESPN, ESPN3.COM, MOBILETV.
NFL Commissioner Roger Goodell said he intends to meet with Tennessee quarterback Vince Young in the next few weeks. The two will talk about Young's recent citation after an assault at a Dallas strip club, but that a suspension is unlikely since he's a first-time offender. Meanwhile, the commissioner also said the NFL was told that Michael Vick is not a focus of the police investigation into the shooting at his birthday party last week.
Vick Answers Questions About Shooting
Eagles QB Michael Vick voluntarily called the Virginia Beach police to answer questions about a shooting that took place Friday morning. Vick and his attorney, Lawrence H. Woodward Jr, spoke with a detective about the incident which took place outside of the establishment where Vick had just hosted his birthday party. According to Woodward, Vick had left the party about 30 minutes before the shots were fired.
Lakers assistant Brian Shaw met with the Cavaliers Monday about their vacant head coaching position. Shaw has become one of Phil Jackson's most trusted assistants, and he could be a candidate to replace Jackson if the Zen Master decides not to return to the Lakers. That decision is expected to come by the end of the week.
From now on FIFA will censor the replays shown on the giant video screens inside the stadium at the World Cup. This decision comes after replays of a disputed Argentina goal against Mexico yesterday started arguments on the field and in the stands. FIFA said replaying the controversial goal was clearly a mistake.
Capriati Stable; Full Recovery Expected
A spokesperson for Jennifer Capriati says the former top-ranked tennis player is recovering from an "accidental overdose" of prescribed medication. The 34-year-old is stable and a full recovery is expected. The spokesperson did not say how Capriati was found, who called emergency services or what medication was involved.
Lu Beats Roddick, Moves on to Quarters
After making the Wimbledon Finals last year, 5th seed Andy Roddick was beaten by unseeded Yen-hsun Lu in the 4th round Monday. The 26-year-old Lu won in five sets, 4-6, 7-6 (3), 7-6 (4), 6-7 (5), 9-7. The Taiwan native had never advanced past the 3rd round at any Grand Slam but now finds himself in the quarterfinals where he will face Novak Djokovic.