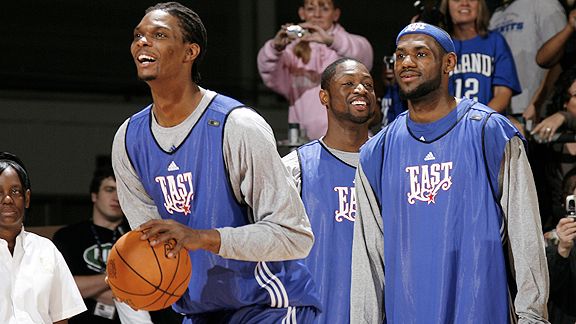 Joe Murphy/NBAE/Getty Images

"Chris and LeBron, see me after shootaround for sports drinks and TOP SECRET NEGOTIATIONS."
On Thursday, the NBA's free agency market is officially open for business. General managers will do everything in their power short of raiding their kids' college funds to land one or more players in what's been touted as the best class ever. Now that Dwyane Wade's mini-convention with Chris Bosh and LeBron James is in the books and Dirk Nowitzki has officially thrown himself into the fray, we wouldn't be surprised if many frenzied NBA "war rooms" made the New York Stock Exchange look like a quilting bee. Will Dirk rejoin his buddy Steve Nash to form another mighty trio worthy of taking on the Lakers as well as a potential James/Wade/Bosh team-up? It'd be the best thing that'd happen to Phoenix since the Cardinals almost won the Super Bowl.
If salary caps and maximum contracts didn't exist, which NBA trios would you like to see together, if only to meet for snacks and face-time? Here are some of our dream free agent-driven summits:
J.J. Redick, Grant Hill and Shane Battier: What better way to confuse opposing fans than with three of the most recognized former Duke players joining forces?
Mike Miller, Nene and DeMar DeRozan: Throw league announcers a bone by forming the core of the All-Alliteration Team.
Dirk Nowitzki, Yao Ming and Pao Gasol: Meeting place: IHOP. Agenda: global marketing domination.
Travis Outlaw, Jarrett Jack and Marcus Banks: Wouldn't you guess that this group would lead the league in steals based on names alone?
Michael Jordan, Larry Bird and Magic Johnson: Admit it, you'd pay to see them suit up just to see how they'd do against today's kids.