December 2, 2009 7:30 AM ET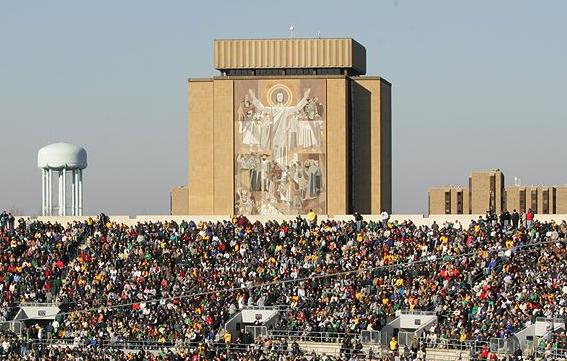 Tom Hauck/Getty Images
A general view of Notre Dame stadium and Touchdown Jesus
According to
ChicagoTribune.com
, the firing of Charlie Weis has caught up to the Irish on the recruiting front. Notre Dame lost Rival.com's No.16 ranked prospect, Chris Martin - a 6-foot-4, 240 pound defensive lineman.
"He committed to Charlie Weis, got real close to Charlie Weis," national recruiting analyst Tom Lemming said. "When Weis was fired, he took off. It was pretty simple...
"It's a major loss for Notre Dame and should maybe give them a sense of urgency to get someone in place to get all these guys, including Chris Martin. ... He could (come back), if the new coach is persuasive enough." Martin plans to look at Florida, Oklahoma, USC and California.
ScoutInc:
Irish face recruiting hurdles
Tags: Charlie Weis, Notre Dame, USC, NCAA Football, Florida, Oklahoma, Tom Lemming, California