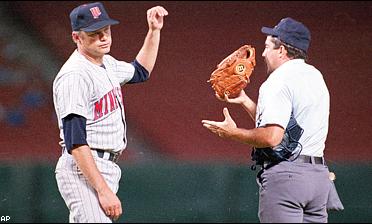 "Are you still trying for that no-hitter Joe? Just retire already."
July 2, 1970 - Horace Clarke, aka "The No-Hitter Assassin" (SportsCenter.com copyright pending), broke up his third possible no-hitter in the span of less than one month, breaking up each one in the ninth inning! Clarke's victim this time around was Joe Niekro, who was two outs away from a no-no when Clarke reached base on a single. Niekro retired the next two batters and the Tigers defeated the Yankees 5-0.
Kansas City pitcher Jim Rooker, Clarke's first victim (June 4th), didn't get off so easy. The Royals led 1-0 in the ninth when Clarke broke up Rooker's no-hitter bid with a single. Adding insult to injury, the next batter doubled to right-center scoring Clarke and tying the game. Then, in the bottom of the 12th, Horace Clarke hit a sacrifice fly off reliever Moe Drabowsky, scoring a runner left on third by Rooker, who wound up taking the loss.
And then there was Red Sox pitcher Sonny Siebert (June 19th), whom Clarke singled off of with no outs in the ninth inning in front of a crowd of 32,311 at Fenway Park to end Siebert's shot at baseball immortality. This spurred a four-run rally, but unlike Rooker, Siebert at least got the win.