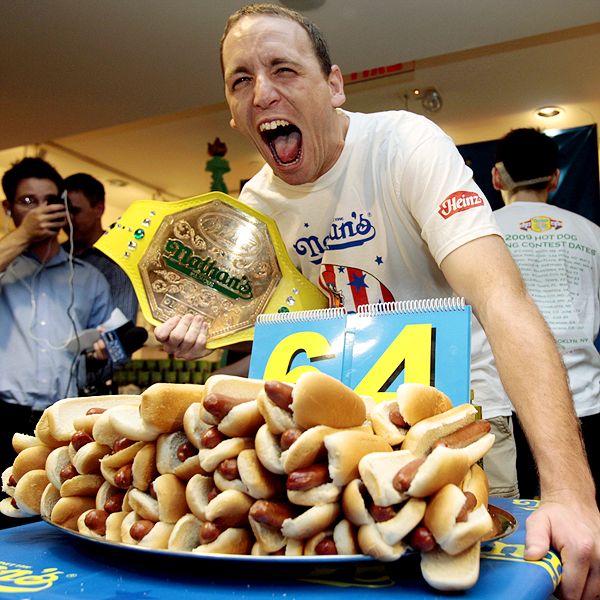 AP Photo/Richard Drew
"This isn't what everyone's Fourth of July cookout spread looks like?"
We literally CANNOT STAND the excitement this weekend. Epic World Cup quarterfinals matches, Wimbledon finals, Lance's last Tour de France AND the annual Nathan's hot dog eating contest?!?! We don't know how we'll find the time to fit in all our cookouts and DIY fireworks displays. And our online shopping sprees. That's right, folks. It's For Sale Friday!
2010 FIFA World Cup: Quarterfinals
Saturday at 10 AM ET and 2:30 ET
Big weekend for World Cup soccer. Saturday, we have a game of World Cup Final-like magnitude in the morning in Argentina vs. Germany (10 AM ET on ABC), then Paraguay vs. Spain in the afternoon (2:30 ET on ABC). We can't think of any better way to get pumped for the marquee match of the weekend than sporting this T-shirt emblazoned with the mug of the World Cup's quirkiest coach, Diego Maradona. Wear it, and maybe you'll be qualified to coach your country's national team too.
Wimbledon: Men's and Women's Finals
Saturday and Sunday at 9 AM ET
This weekend will bring us two Wimbledon winners. The women take Centre Court on Saturday, where we'll see a Serena Williams-Vera Zvonareva showdown. The men take the stage on Sunday, where we'll see Rafael Nadal and Tomas Berdych face off. And if you're still hungry for more Wimbledon action after that, you can see Kirsten Dunst and Paul Bettany face off anytime you want. Once you buy everyone's favorite tennis RomCom "Wimbledon" on DVD.
The Tour De France
Saturday through July 25
The Tour de France kicks off Saturday, which is notable because it will be the seven-time champion Lance Armstrong's last. Or so he tweeted on Monday. Who will take over as bicycling next great star? Maybe you. All you need is a sweet pair of bike shorts to get started. And they don't get any sweeter than this.
UFC 116
Saturday at 10 ET
This is a big one, folks. It's the undisputed UFC heavyweight champion Brock Lesnar's return to the Octagon. He's defending his title against Shane Carwin, who has dispatched each of his 12 opponents in less than a round. Don't feel like shelling out the pay-per-view dollars to see the fight live? You can still have Brock in your living room with you Saturday night with this life-sized stand-up cardboard version of Brock. That's right, we said a life-sized stand-up cardboard version of Brock.
Nathan's Hot Dog Eating Contest
Sunday at noon
Three-time defending champ and world record holder (68 hot dogs in 10 minutes) Joey Chestnut will look to reign again at Coney Island. But will his rival, six-time champion Kobayashi, be there to challenge him? Maybe, maybe not. Either way, all the competitive eaters will need some serious encouragement, whether you're cheering from the crowd in Coney Island or through your TV set (the event will be televised on ESPN). And there is literally no better accessory for cheering on a hot dog eating competition than this hot dog hat. Trust us on this one.