July 5, 2010 3:45 PM ET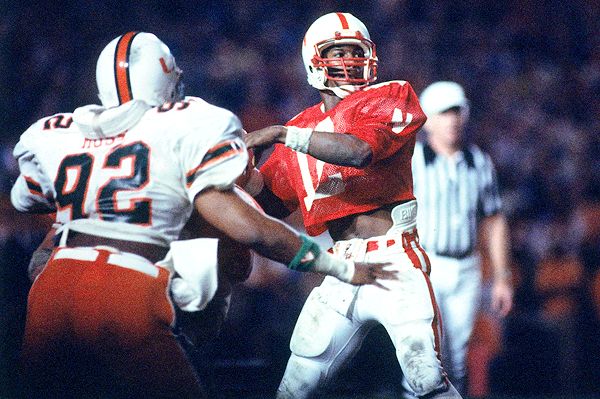 WHAT HAPPENED:
Nebraska's 1983 team was powerful and boasted the Heisman Trophy winner in
Mike Rozier
. The Cornhuskers were averaging 52.0 points per game and punishing opponents by an average of 38 points per game, including a 44-6 whipping of defending national champion Penn State in the Kickoff Classic. Big Red reached the 50-point mark 7 times that season. Nebraska was ranked No. 1 the entire season, while Miami was unranked in the AP preseason poll and didn't crack the poll until week 4. Up-and-coming Miami had shaken off a season-opening loss to Florida to win 10 straight, but were not nearly as impressive as the flashy Cornhuskers. Miami won with stingy defense, but many thought they couldn't handle Nebraska's offensive arsenal in the Orange Bowl. In his 11th season in Lincoln, it appeared Tom Osborne would get his first national championship.
The unbeaten and top-ranked Cornhuskers were almost assured of being crowned National Champions with at least a tie against the surprising Miami Hurricanes in that bowl game. Trailing 31-17 in the 4th quarter, Nebraska fought back. On 4th and 8 with under a minute to go and now trailing 31-24, Husker running back Jeff Smith took a Turner Gill pitch around right end and sprinted 24 yards for the TD. Opting to go for the win instead of the tie, Tom Osborne sent his offense back on the field with :48 seconds left. But a Gill to Smith pass attempt was knocked away by Miami's Ken Calhoun, preserving the 31-30 upset and an improbable national championship for Miami.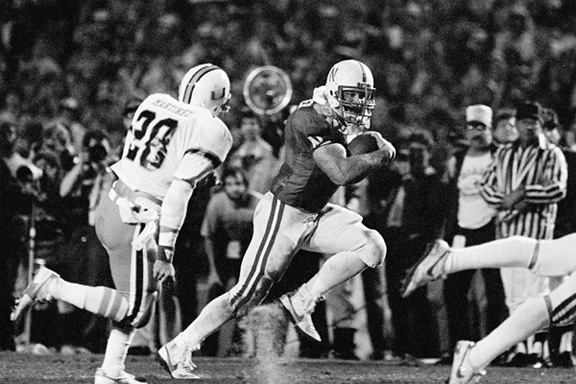 During the game, Osborne reached into his bag of tricks, running a trick play known as the fumblerooski. Nebraska quarterback Gill intentionally "fumbled" the snap from center by effectively setting it on the turf. The ball was picked up by All-American offensive guard Dean Steinkuhler, who ran the ball 19 yards for a touchdown.
PREMISE: What if Ken Calhoun doesn't knock the pass away and Nebraska wins?
POSSIBLE CONCLUSIONS:
-
Nebraska wins 32-31 and claims the national championship becoming the first team since Army in 1945 to go wire-to-wire in the AP Poll.
-
The 1983 Nebraska team goes down as one of the best in college football history, averaging 50.5 points per game.
-
Tom Osborne doesn't have to wait until 1994 to earn his first national championship. Remember, Osborne was once regarded as a coach who "couldn't win the big one". In fact, starting with this 1984 Orange Bowl, Nebraska would endure a stretch of 11 years in which it went 2-9 in bowl games, including 0-5 in the Orange Bowl.
-
Miami doesn't become "The U". Winning the 1983 national championship boosted a still-evolving program to national prominence. Are they able to recruit the same type of players that ushered in championships later in the decade? Also, 1984 was a mediocre season for the Hurricanes, going 8-5 and losing their final 3 games (including the Flutie Hail Mary and the famous Maryland collapse). Had Miami lost the '84 Orange Bowl, would the landscape of college football in the 80s have been different?
-
Howard Schnellenberger stays at Miami instead of going to the USFL and Jimmy Johnson never comes to Miami to add energy and personality to the program, building the foundations of a juggernaut in the process.
Other Tidbits:
-
After his heartbreaking loss in the 1984 Orange Bowl, Tom Osborne would have to wait 11 more years to finally get his first national championship.. and he did so on the very same field against the very same opponent.. beating Miami in the 1995 Orange Bowl.
-
Turner Gill finished 4
th
in the Heisman voting that year, giving Nebraska two players in the top 4. Previously, the last team to do that was Nebraska in 1972 (Johnny Rodgers 1
st
& Rich Glover 3
rd
).
Vote on what you think would have happened if Nebraska's 2-point conversion was successful.
Check out more
"What If...?"
segments on College Football Live at 3:30 all this month and watch the 1984 Orange Bowl today at 4P ET on ESPN Classic.
1984 Orange Bowl Game Recap:
Scoring Summary First Quarter
UM-Glenn Dennison 2 pass from Bernie Kosar (Jeff Davis kick), 9:18. (UM 7-0)
UM-FG Davis 45, 4:51 (UM 10-0)
UM-Dennison 22 pass from Kosar (Davis kick), 1:08 (UM 17-0)
Second Quarter
NU-Dean Steinkuhler 19 run (Scott Livingston kick), 8:54 (UM 17-7)
NU-Turner Gill 1 run (Livingston kick), 2:17 (UM 17-14)
Third Quarter
NU-FG Livingston 34, 13:09 (17-17)
UM-Alonzo Highsmith 1 run (Davis kick), 9:37 (UM 24-17)
UM-Albert Bentley 7 run (Davis kick), 4:44 (31-17)
Fourth Quarter
NU-Jeff Smith 1 run (Livingston kick), 6:55 (UM 31-24)
NU-Smith 24 run (Gill pass failed), 0:48 (UM 31-30)
Tags: Turner Gill, Mike Rozier, 1984 Orange Bowl, Miami vs Nebraska 1984 Orange Bowl, Ken Calhoun