July 13, 2010 10:40 AM ET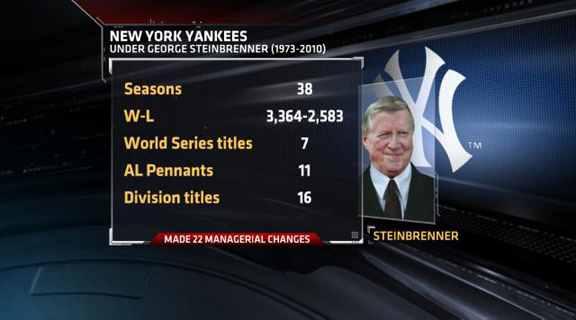 George Steinbrenner was the longest tenured owner among current MLB owners, having owned the team since 1973. Under Steinbrenner's reign, the Yankees had the highest win percentage (.566), most World Series titles (7) and most division titles (16) of any MLB franchise since 1973. Also under Steinbrenner, the Yankees made 22 total managerial changes, the most of any team since 1973.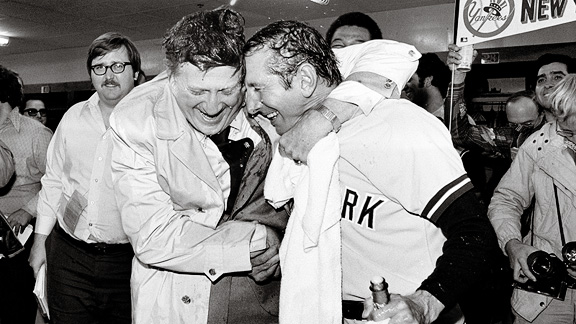 "Winning is the most important thing in my life, after breathing. Breathing first, winning next."
- George M. Steinbrenner III
TIMELINE OF NOTABLE EVENTS
January 3, 1973:
Led a group of businessmen which purchased New York Yankees baseball club from CBS for approximately $10 million
April 5, 1974:
Pleaded guilty to making illegal contributions to President Nixon's re-election campaign (also later plead guilty to a felony charge of obstruction of justice on August 23)
November 27, 1974:
Suspended by Commissioner Bowie Kuhn for two years (later reduced to 15 months and reinstated in 1976)
December 9, 1988:
Signed 12-year, $500M contract with MSG network that gave cable network exclusive rights to broadcast Yankee games beginning in 1991
July 30, 1990:
Banned from baseball for life by Commissioner Fay Vincent after paid gambler Howie Spira $40,000 to find damaging information on Dave Winfield, who sued him for failing to pay his foundation the $300,000 guaranteed in his contract (reinstated in 1993)
March 1997:
Signed unprecedented 10-year $97M sponsorship deal with Adidas
December 1999:
Completed deal to merge business operations with the New Jersey Nets which created a 50/50 corporate partnership called YankeeNets LLC
March 19, 2002:
YES Network (a NYC regional cable TV channel that broadcasts Yankees games and is owned by Yankees Global Enterprises) debuts
October 2007:
Relinquished day-to-day control of Yankees to his sons Hal and Hank Steinbrenner; Hal named chairman of the board of Yankees Global Enterprises
Tags: Breaking News, New York Yankees, Goeroge Steinbrenner