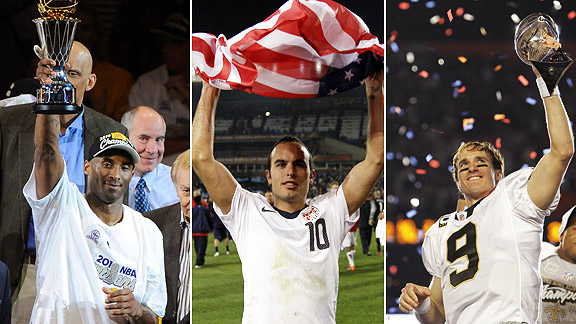 Getty Images/AP Photo
The stars are all coming out for the 18th annual ESPYs, which will be hosted by Seth Meyers and will take place at the Nokia Theatre in Los Angeles tonight. The show will be televised live for the first time since 2003. Below is a list of some of tonight's categories and the nominees. For a complete list click here. Coverage of the ESPYs begins with SportsCenter at 6:00 pm ET, continues with the 2010 ESPY's Countdown at 7:00 pm ET, and the show begins at 9:00 pm ET, all coverage on ESPN.
BEST COACH/MANAGER
Geno Auriemma, Connecticut women's basketball
Joe Girardi, New York Yankees
Phil Jackson, Los Angeles Lakers
Mike Krzyzewski, Duke men's basketball
Sean Payton, New Orleans Saints
Nick Saban, Alabama football
BEST MALE ATHLETE
Drew Brees, NFL
Kobe Bryant, NBA
LeBron James, NBA
Jimmie Johnson, NASCAR
Albert Pujols, MLB
BEST FEMALE ATHLETE
Maya Moore, NCAA basketball
Diana Taurasi, WNBA
Lindsey Vonn, skiing
Serena Williams, tennis
BEST CHAMPIONSHIP PERFORMANCE
Drew Brees, Super Bowl XLIV
Anthony Johnson, Big Sky Conference Championship
Michael Phelps, World Swimming Championships
Shaun White, Winter Olympics
BEST GAME
Twins beat Tigers in extra innings (AL Central one-game tiebreak)
Canada edges USA in Olympic hockey championship game in overtime
Duke gets past Butler in men's NCAA basketball championship
BEST TEAM
Crimson Tide football
Chicago Blackhawks
Connecticut Huskies women's basketball
Los Angeles Lakers
New Orleans Saints
New York Yankees
Note: The Elias Sports Bureau and ESPN Stats and Information group contributed to this report.