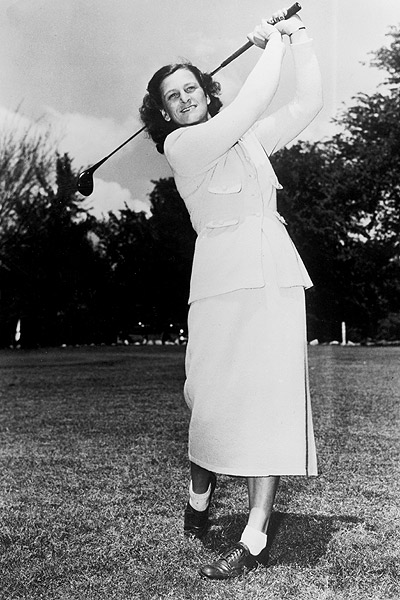 Hulton Archive/Getty Images
Golf wasn't on the menu for that day, but odds are Babe would've ruled the event anyway.
July 16, 1932: Though she won the sewing championship at the 1931 State Fair of Texas in Dallas, the legend of Mildred "Babe" Didrikson (later Zaharias) as one of sports history's most dominating all-around athletes didn't take off until the next year. The '32 Amateur Athletic Union Championships were held in in Evanston, Ill, and also doubled as the trials for the Olympic Games in Los Angeles that year, the perfect spotlight for Babe to strut her stuff.
The 5'5" 21-year-old native of Port Arthur in southeast Texas was the lone representative of her sponsor, the Employers Casual Company of Dallas. In three hours Babe competed in eight out of ten events, winning five and tying for first in a sixth. Set set world records in the high jump, 80-meter hurdles, baseball throw, and javelin. Her total point score on the day? 30 points. The runners-up? That was the entire University of Illinois team, who tallied 22 points total, only spread out among 22 different athletes. Perhaps she would've competed in the other two events if the organizers had more time.
Babe would later compete in three Olympic events that summer: the javelin, high jump and 80-meter hurdles. The only reason why she stopped at three? Because Olympic rules of the day prohibited women from competing in more than three individual events during the games.