July 17, 2010 2:00 PM ET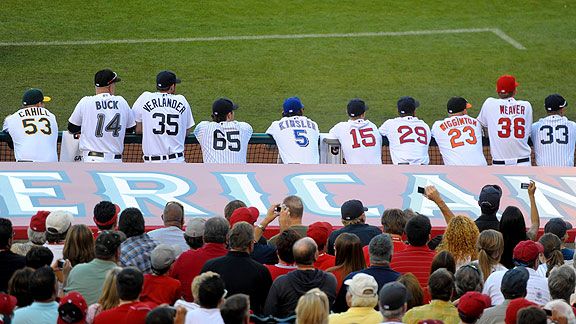 Kirby Lee/US Presswire
"Does anyone else's armpits hurt?"
This past week in sports was all about the Major League All-Stars. Well, it was about the ESPYs and the British Open and Tiger's new putter and George Steinbrenner, too. But the All-Star Game provided us with such a bevy of impressive stats, we had to devote a whole numbers column to it. So, let's get to it. Here's your starting nine of All-Star Game-related stats.
4.5 – Number of games the Rangers led the AL West by at the All-Star break, the
largest lead in any division
. That's the first time since 1994 (when MLB adopted a six-division format) that no team has had a division lead of five or more games at the break. Here's to an exciting second half of the season!
1 – Number of Red Sox players who have won the MLB Home Run Derby.
David Ortiz became the first
to hold the title, winning Monday night's event. He also became the oldest Derby winner (34 years, 236 days old) since 1996.
11 – Number of homers hit by Ortiz in the third round of the Derby, tied for the most ever in the final round. Not bad for an "old man" (see above).
12 – Number of lefty winners in the last 15 Home Run Derby contests. That's 80 percent, folks. Sammy Sosa (2000), Miguel Tejada (2004) and Vladimir Guerrero (2007) are the only non-lefties to have won since 1996.
13 – Consecutive All-Star Games the American League went without getting beat (including "The Tie"), the longest unbeaten streak in All-Star Game history. The NL snapped the streak with a
3-1 win Tuesday night
. The NL's last All-Star Game win was in 1996. Mike Piazza was the MVP. Just saying.
1 – Number of players who have collected three RBI in an All-Star Game on a hit that wasn't a homer. NL savior Brian McCann of the Atlanta Braves became the first to do it, knocking a three-run double to give the National League a 3-1 win.
1 – Number of players who have recorded a hit in each of the last five All-Star Games. David Wright of the Mets made it happen by going 2-for-2 in Tuesday's game. That gives Mr. Wright the longest All-Star Game hitting streak since Wade Boggs (1988-1992).
0 – Homers hit in the last two All-Star Games (J.D. Drew hit the last one in 2008 at the old Yankee Stadium). This marks only the second time there were no round trippers in two straight All-Star Games – it last happened in 1957 and '58.
7 – Consecutive seasons that the Angels have won their first game after the All-Star break thanks to their
win over the Mariners
Thursday night. That's the second-longest current streak, behind the Yankees, who got their ninth in dramatic fashion last night.
Tags: Haha, MLB, David Ortiz, Texas Rangers, David Wright, All-Star Game, Mike Piazza, Brian McCann, Los Angeles Angels of Anaheim