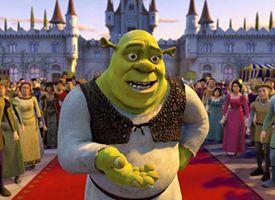 Dreamworks
"All I'm saying is, if Nate gets an extension, I want one too."
The Timberwolves sent Al Jefferson to the Jazz this past Tuesday in exchange for two future first-round draft picks and center Kosta Koufos. Jefferson was decidedly pumped about the trade, saying "The basketball gods were thinking about me when I woke up and found out I had the chance to be here."
We're not saying we believe in basketball gods or anything but if there actually were basketball gods, they've been looking out for a number of people this NBA postseason and offseason. And we're not just talking about NBA jersey salespeople (although they're definitely on the list). So are these people:
Seeing Green
"Shrek Forever After" may have failed to live up to expectations when it came out in theaters in May, but the green ogre franchise got a bunch of free publicity courtesy of Nate Robinson and Big Baby Davis, who dubbed themselves "Shrek" and "Donkey" after a big Game 4 win. We haven't seen the figures, but we assume a spike in DVD rentals or the first two Shrek movies (you know, the good ones) followed. All the pub from Open Championship winner Louis Oosthuizen, aka Shrek, couldn't have hurt either.
The Miami Chamber of Commerce
The newly opened Wizarding World of Harry Potter theme park in Orlando isn't the only thing that will have people flocking to Florida. Nothing stimulates an economy like a successful pro sports franchise, and nothing stimulates a pro sports franchise like having three of the league's best players play for your team. Someone in South Beach did something to make the basketball gods happy.
Tie Salesmen in the Greater Los Angeles Area
Phil's back. And you know what that means. Another season full of power ties! Thankfully, coach Jackson has grown out of this look.
Stephen Strasburg
Hype can be a destructive beast sometimes, especially in the D.C. area. Just ask Kwame Brown. Luckily, Stephen Strasburg doesn't have to bear the weight of the District's sports expectations on his all-important shoulder alone. Not with No. 1 NBA Draft pick John Wall settling in nicely. Strasburg should be thanking the lucky stars on his alternate Nats jersey for the help with the hype burden. Not that he appears to need it thus far.